The Drogheda Argus and Leinster Journal Newspaper Archive
The Drogheda Argus was a weekly newspaper selling at six pence. The paper circulated in Meath, Louth, Dublin, Monaghan, Cavan, Westmeath, Down, Armagh, and Longford; also in Kelly, Carrickmacross, Ardee, Dundalk, and Drogheda.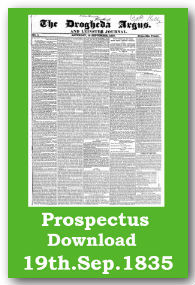 The newspapers most notable contributor was Daniel O'Connell often referred to as The Liberator or The Emancipator. Daniel O'Connell was a leading Irish politician who campaigned for Catholic emancipation and the repeal of the Act of Union which combined Great Britain and Ireland.
The Drogheda Argus prospectus can be downloaded on this page. The papers sets out its aims and declares:
"The want of an Honest and Independent Local Journal, as a medium of expressing their sentiments, has long been felt by the Patriotic Men of Drogheda and the adjacent counties. To remedy this effect, under the Patronage of the Influential and Independent Gentlemen of Drogheda and its Vicinity...[we have] have determined to establish a Journal founded on liberal principles and advocating those measures which are required by sound policy, expediency, the improved spirit of the age, the extension of civil and religious liberty all over the world"
Through the Irish Newspaper Archive's gateway members can gain access to the following years 1835 - 36, 1840, 1842 – 43, 1903-04, 1908 -1909. The Drogheda Argus and Leinster Journal was absorbed by the Drogheda Advertiser 21.Dec.1929
The Drogheda Argus & Leinster Journal Newspaper Orientation:
Independent; Liberal (1846); Nationalist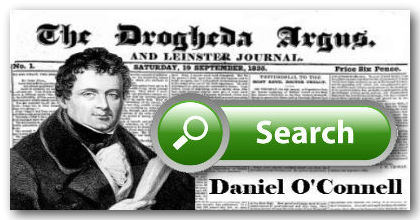 ---
People who viewed the Drogheda Argus Newspaper also viewed the following newspapers:
| | |
| --- | --- |
| | |
| | |
We would like to thank the Waterloo Directory for their help with the history of the Drogheda Argus.