Nationalist & Munster Advertiser Newspaper Archive 1889 - Current
In 1885 the Nationalist newspaper company was formed in Clonmel. The newly formed company purchased the printing press from the defunct newspaper called; The Tipperary. The Tipperary Nationalist was first published January 1886, under the editorship of Mr. J. G. McSweeney, who had considerable experience as a journalist in Dublin. On the subsequent resignation of Mr. McSweeney, Mr. John E. O'Mahony, formerly of the Skibbereen Eagle, became editor.
Mr John E. O'Mahony was the first newspaper editor to be arrested under the Coercion act. Ireland was in the throes of the land agitation, Mr. O'Mahony was imprisoned and the Tipperary Nationalist company became involved in several libel actions.
The newspaper reports on the trial and the welfare of their editor with the headline; THE CRUSADE AGAINST THE NATIONALIST (Reported 11.May.1889)
With a nationalist outlook the publication went on to support Fine Gael [Finna Gael]. "We shall... champion... the cause of the oppressed." A second edition was run on Tuesdays between 05 Jan 1944 and 11 Mar 1967. James Long acted for the Nationalist Newspaper Co.
See Tipperary Nationalist, which was sued by the Crown and seized by the sheriff; Burke indicates that it essentially preceded this paper.
The masthead for newspaper changed a number of times from the early 1890's:
Tipperary Nationalist & Southern Irishman 1886 - 01.February.1890
The Nationalist 22.February.1890 - 30.April.1892
The Nationalist & Tipperary Advertiser 04.May.1892 - 12.Febraury.1908
The Nationalist & Munster Advertiser 15.February.1908 - 22.November.2008
The Nationalist 29.November.2008 - Current
Nationalist & Munster Advertiser Orientation:
Nationalist , Catholic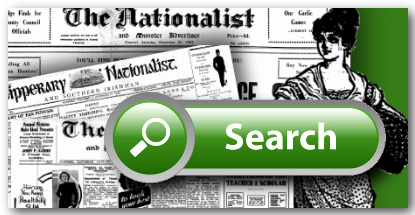 ---
People who viewed the Nationalist & Munster Advertiser also viewed the following newspapers: