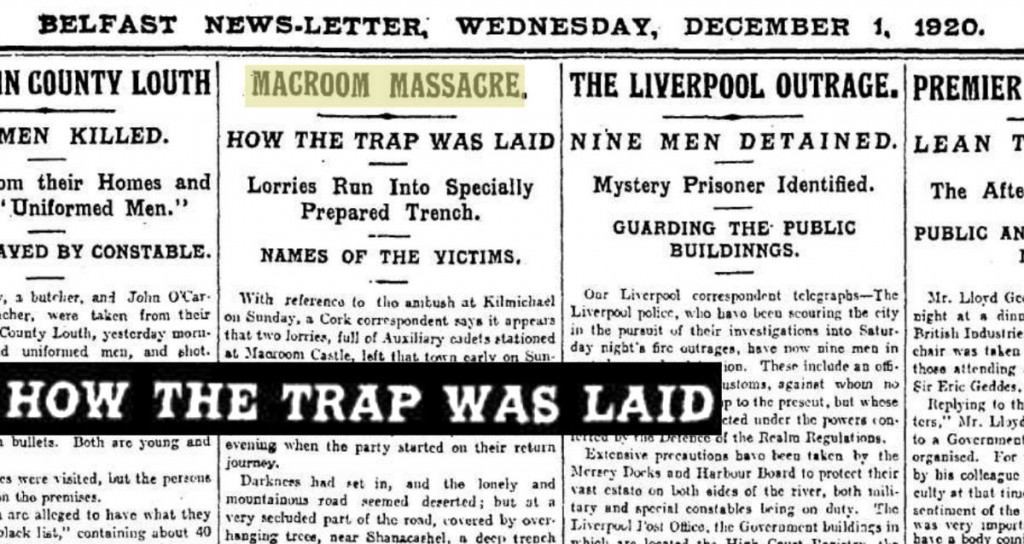 Kilmichael Ambush
Cork was one of the most active counties in Ireland during the War of Independence, and the scene of the biggest number of casualties inflicted on the British army during the war. On 28 November 1920 an ambush at Kilmichael between Dunmanway and Macroom, seventeen auxiliaries were killed by an IRA flying column led by Tom Barry. Three IRA volunteers - Pat Deasy, Michael McCarthy and Jim Sullivan, were also killed following what was later claimed to have been a 'false surrender' by some of the auxiliaries.
Having marched to Kilmichael in the early hours of the 28th, Barry's column waited until just after 4 pm when a scout relayed the news that the auxiliaries were approaching in two Crossley Tenders. The first Crossley Tender carrying nine Auxiliaries, came round the bend into the ambush position moving fairly quickly. According to his own account, Tom Barry, dressed in a military-style uniform stepped onto the road from behind a low wall, put his hand up and the lorry slowed. When it was about thirty-five yards from his command post he threw a Mills bomb into the open cab of the Crossley tender. He also blew a whistle blew to signal his men to open fire.
The Kilmichael Ambush was a pivotal moment in the War of Independence and in December 1920 martial law was declared in the four Munster counties of Cork, Kerry, Limerick, and Tipperary. In 1949 the Kilmichael ambush took center stage in Tom Barry's autobiography, Guerrilla Days in Ireland. The issue of the 'false surrender' would come to dominate the debate over the Kilmichael Ambush and it remains a contentious issue within the study of the Irish War of Independence. In 1966 during the 50th anniversary of the Easter Rising a memorial was unveiled at Kilmichael, the inscription on which read:
They shall be spoken of among their people. The generations shall remember them and call them blessed.