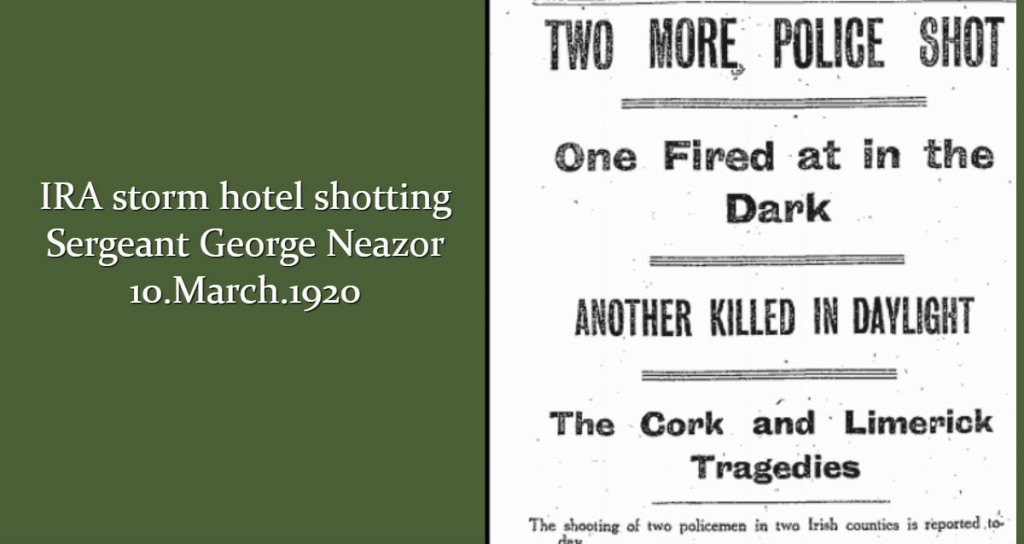 IRA Shot & Kill Sergeant George Neazor IN Rathkeale - 10.March.1920
March was a month of terror in Ireland. It was a month when the IRA began to target the police, military and others in broad daylight as the frequency of barrack attacks gave way to ambush and assassination. It was also a month when the military began to strike back, while Dublin Castle upped the ante against Sinn Fein and their supporters. What else happened in Ireland in March 1920?
If attacks on the police and military up until this point in the War of Independence took on a proscribed format, after an incident in Rathkeale, County Limerick on 10 March everything changed. On that evening a small unit of the local IRA stormed Ward's Hibernian Hotel in the town and shot Sergeant George Neazor (Neazer) dead and injured his colleague, Constable Doyle. During the day, which was fair day in the town, Neazor and Doyle, who were in plainclothes, had accompanied a land steward, Michael O'Brien, from County Kerry to buy cattle for a farm which was boycotted.
Having observed the two RIC men throughout the day, the IRA led by Sean Finn waited patiently until they could strike. Just after 9 o'clock the IRA entered the hotel and were shown to the room where Neazor and Doyle were dining. Sensing what was happening when the doors burst open Neazor fired his revolver but was fatally wounded; Doyle receiving wounds in the hip and wrist. Neazor was moved to a private house but was dead before medical assistance could be provided. Once more, the attack was widely condemned both in the locality and across the country. By the end of the month Neazor, who interestingly had been a witness in the trial of Sir Roger Casement, would be just one of many who had been killed as the war intensified.
Download Source:   Freemans Journal 1763-1924, Friday, March 12, 1920