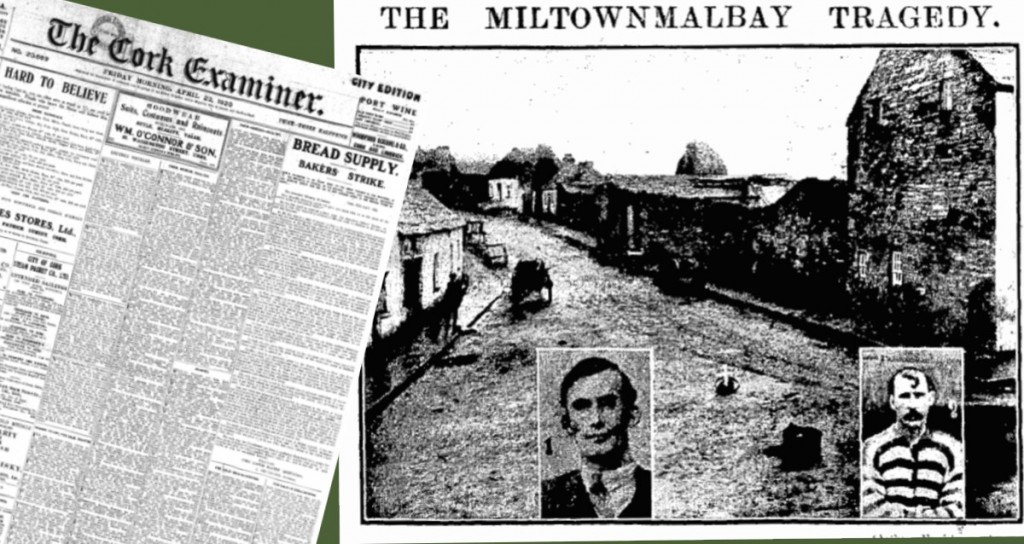 Aril 1920 started with the largest scale IRA activity to date in the War of Independence with the systematic targeting of abandoned RIC barracks and other buildings. It was a month during which the issue of Irish independence would be brought to an international audience, while it continued to be a time of terror in Ireland. The RIC remained the open target of the IRA, but on a number of occasions in April, the RIC would claim victory. Elsewhere, land-related issues continued to flare as anarchy set in across the country.
War of Independence - Miltown Malbay Tragedy - 18.April.1920
One of the most daring attacks of the entire War of Independence period was carried out on the morning of 18 April in the quiet West Clare village of Kilmihil. On that Sunday morning as Sergeant Carroll, along with Constables Collins and Martyn made their way from having attended 10 o'clock mass they were ambushed by a large party of the IRA. Carried out in daylight and with a large civilian population present as they also congregated outside the church, the attack was all the more daring considering that the ambush occurred in the proximity of the Police Barracks and only a few hundred yards from the Military Depot. In the exchange of fire which took place, as men, women, and children fled in all directions Sergeant Carroll was killed and Constable Collins was severely wounded. Several civilians were also injured in the affray. Left behind to defend the situation John Breen was said to have fought valiantly to allow his comrades to retreat. He was eventually shot and died from his wounds. A large memorial now stands in Kilmihil commemorating Breen and the ambush in April 1920, while a smaller stone marker records the place where he fell. The inscription on the memorial records the following lines:
            'He died for the olden cause, the cause that shall not fail, while the stars above look down on one unconquered Gael'.
Download Source: see Cork Examiner, 23 April 1920, page 3. ****PHOTO of the Village and those killed****
Irish Examiner 1841-current, Friday, April 23, 1920
#