Amelia Earhart - her Irish Landing
On the 21st of May, 1932, Amelia Earhart became the first woman to fly solo, non- stop across the Atlantic. Five years previously, Charles Lindberg had achieved the trans-Atlantic crossing from New York to Paris.
Amelia Earhart left Harbour Grace, Newfoundland at 10:51pm (Irish time), Friday 20th of May, to her final destination, Paris. However, her flight was disrupted by a petrol leak and forced her to land in Ireland, "In a small field on the side of a hill overlooked by the Donegal Mountains, near Derry" (Irish Press, 23rd of May 1932) at 2 pm on Saturday.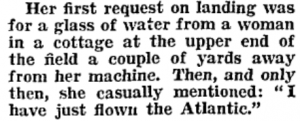 As locals who saw the landing rushed to greet her and welcome her, they all noticed that she did not look tired. The owner of the field, Mr. Gallagher, also a witness to the landing, drove Miss Earhart into the city so she could use the telephone to speak to her husband. The Gallagher family was her host for the night.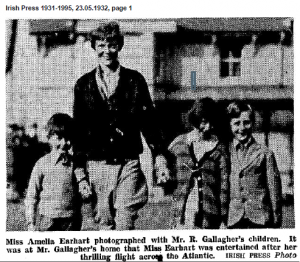 Her flight over the Atlantic turned Amelia into a three time record holder, as the Sunday Independent noted on the 22nd of May:

After her Irish stay, Amelia stopped in London on her way to Paris and the Irish newspapers made note of a special gesture on her part towards her Irish hosts: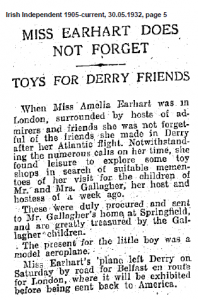 For her bravery and determination, Amelia Earhart received the American Distinguished Flying Cross, awarded to her by President Hoover. The American Senate had to pass a special Bill to authorise the award which recognised her solo flight across the Atlantic.