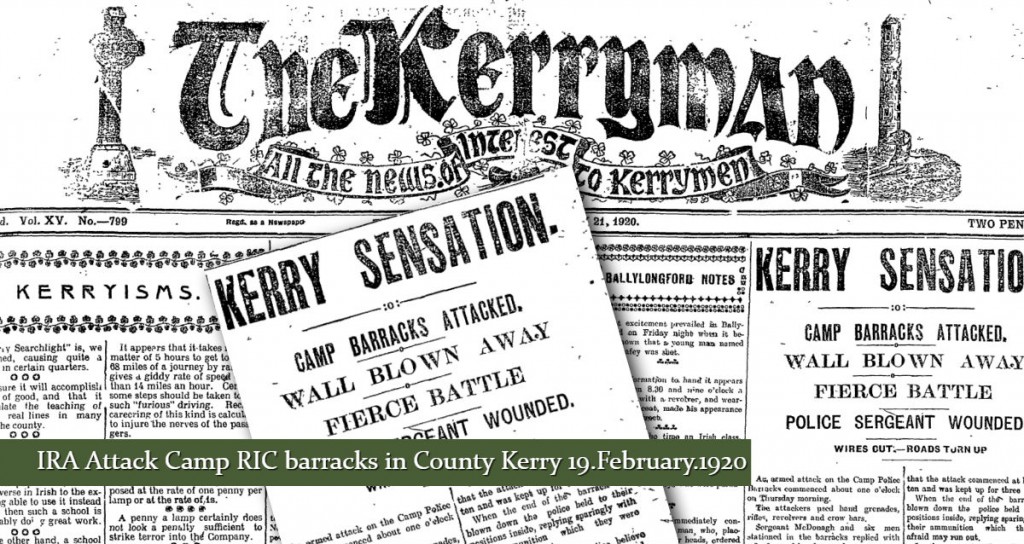 IRA Attack Camp RIC Barracks Co. Kerry 19.February.1920
The attack on Camp RIC barracks in County Kerry by the IRA caused a sensation locally and indicated the first withdrawal of the constabulary from the countryside. Carried out using rifles, revolvers, hand grenades and crowbars the IRA were intent not just on seizing weapons but on destroying the barracks.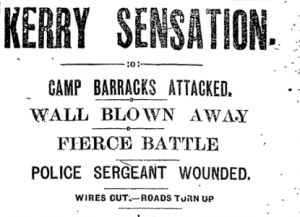 Sergeant McDonagh and six police officers were present in the barracks and replied with rifle fire and grenades. Lasting over an hour the IRA succeeded in blowing a hole in the gable wall of the barracks and called on the RIC to surrender. McDonagh, who had been shot through the cheek ordered that no surrender would be made and returned fire immediately. The IRA then retreated and left guns and crowbars behind them. The police investigating the scene in the aftermath of the attack found two revolvers, one with a bullet mark, suggesting the holder of the gun had been hit. At least three IRA men were injured in the attack. As with all of the attacks on RIC barracks which had taken place to date in Ireland, the roads were torn up, trees were cut and blocked the road, while all methods of communication had been cut. In the days that followed a number of houses in Tralee were searched and indeed in early March raids were still being carried out in connection with the attack. A few days after the attack the police decided to abandon the building, took away all of their possessions and set fire to the shell of the barracks.