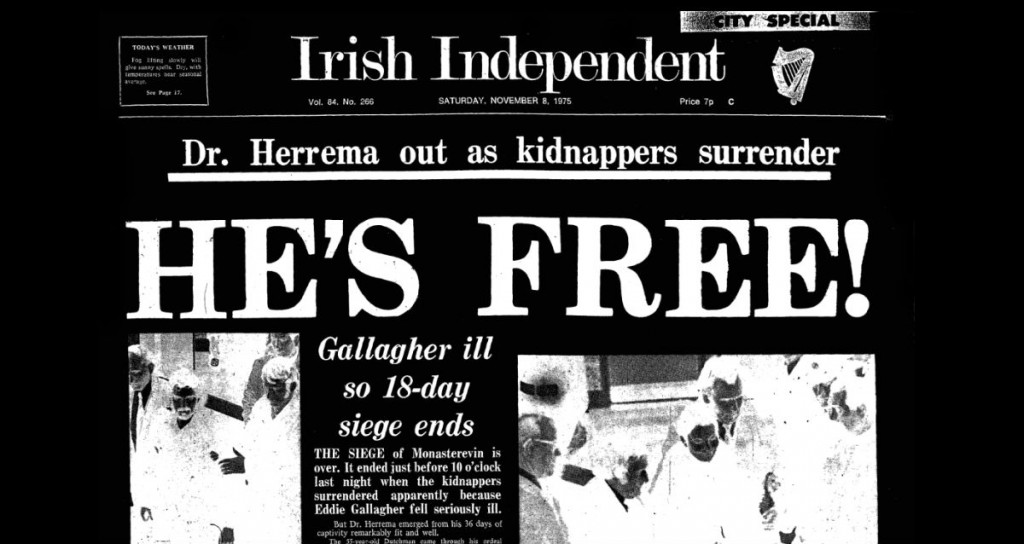 7 November  1975 Dr  Tiede Herrema freed
On 7 November 1975 the story which had gripped the nation for over thirty days came to a dramatic, if somewhat anti-climatic conclusion when the 'Siege of Monasterevin' ended and the Dutch businessman Dr Tiede Herrema was freed by his two IRA captors. Chief executive of the Ferenka steel company in Limerick which employed 1,200 people, Herrema had been kidnapped on 3 October at a bogus checkpoint set up by republicans Eddie Gallagher and Marian Coyle. The kidnappers, phoning the Dutch Embassy in Dublin, demanded a cash ransom and the release of three republican prisoners. If this was not done within 48 hours they threatened to shoot  Herrema.
Taoiseach Liam Cosgrove refused to pay the ransom fearing that it would lead to the exit of foreign business investment and also spark copycat kidnappings. It was the start of a 36 day ordeal for Herrema and led to the biggest manhunt in the history of the Irish state. The Gardai operation alone, which included 4,000 officers and the army, was said to have cost the state more than £3 million.
Finally, just over two weeks later the kidnappers were tracked to a council estate in the quiet village of Monasterevin, County Kildare. Gardai and Army surrounded the house and made several attempts to enter the house but Coyle and Gallagher repelled them firing wildly as they retreated upstairs with Herrema.
Holed up in the upstairs box room for over four days, Gallagher, who had become violently ill, and Coyle decided to surrender and so ended the siege at '1014 St Evin's Park'. Marian Coyle was later sentenced to 15 years, of which she served, while Gallagher served 14 years of his 20-year sentence.
For many in the Republic of Ireland, it brought the reality of the troubles closer to home.
Download the Irish Independent  here 7 November 1975 Dr Tiede Herrema freed
Source newspaper: www.irishnewsarchives.com / Irish Independent, 8 November 19757 November 1975 Dr Tiede Herrema freed