Highlights of this week in history aims to present some of the most interesting facts which took place through the years. Each of the events and facts we present have had an impact on history, on pop culture, or simply, they are very interest. The archives provide additional information on most historic events and facts.
22nd June 1986
Footballing history was made when Argentine footballer Diego Maradona scores two goals for Argentina to defeat England and qualify for the World Cup semi finals. The first goal where the ball initially appears to hit off Maradona's head into goal, was in fact punched in by his hand and allowed  as a goal. Speaking about the goal, Maradona later said the goal was scored "a little with the head of Maradona and a little with the hand of God." Five minutes later, Maradona scored what was voted in 2002 to be the greatest goal in World Cup history, when he dribbled past five English defenders before scoring to give Argentina a 2-0 lead.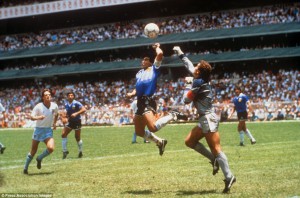 22nd June 1989

Tim Burton's take on DC Comics, Batman, was released in cinemas starring Michael Keaton. Enjoy  this scene from the movie!   View
23rd June 1995
The Spring Boks, cheered on by President Nelson Mandela, defeated New Zealand in the rugby world cup,  in what was much more than a sporting occasion as reported in the Irish Independent at the time.

24th June 2009
Michael Jackson, King of pop is 6 years dead today. Here he is at his best.View Thriller Video