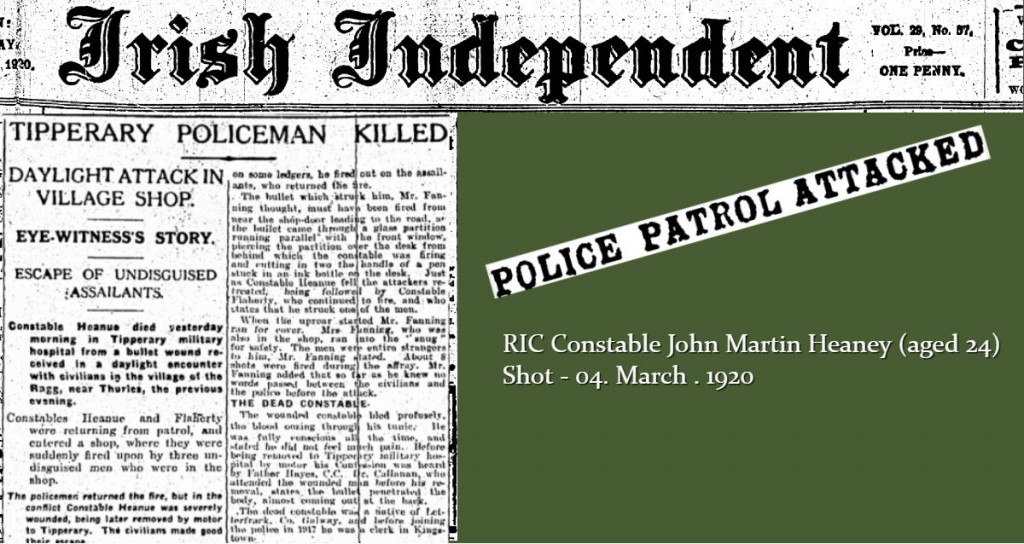 March was a month of terror in Ireland. It was a month when the IRA began to target the police, military and others in broad daylight as the frequency of barrack attacks gave way to ambush and assassination. It was also a month when the military began to strike back, while Dublin Castle upped the ante against Sinn Fein and their supporters. What else happened in Ireland in March 1920?
RIC Constable John Martin Heaney (aged 24) Shot- 04.March.1920

The month of March 1920 would highlight the tit-for-tat nature of attacks and the fact that the IRA was willing to carry out attacks even where the civilian population was present. The murder of RIC Constable John Martin Heaney (aged 24) at the Ragg, county Tipperary on 4 March illustrated that.  Heaney was accompanied on patrol by Constable Flaherty and as they made their way home the two policemen decided to stop at Fannings Public House, which also functioned as a grocery, to buy eggs. They had obviously been tracked as they made their way across the country on patrol and the IRA lay in wait. Just as the men were about the pay for the goods 'a loud yell burst forth', a duel ensued and gunfire lit up the public house. The police were unaware and so were defenseless in the situation. The bullet holes in the woodwork and doors in the aftermath of the attack suggested that several shots had been fired by both parties. Heaney jumped over the counter and returned fire but was shot almost instantly. The incident was over in a matter of seconds and the IRA retreated. Flaherty followed them outside and fired a number of shots but to no avail. It was later claimed that the behavior of soldiers in Thurles had been the root cause of the attack. Later that month, the murder of Thomas Dwyer in the Ragg was believed to have been in retaliation for the shooting of Heaney.