Sir Roger Casement was committed to trial to face Treason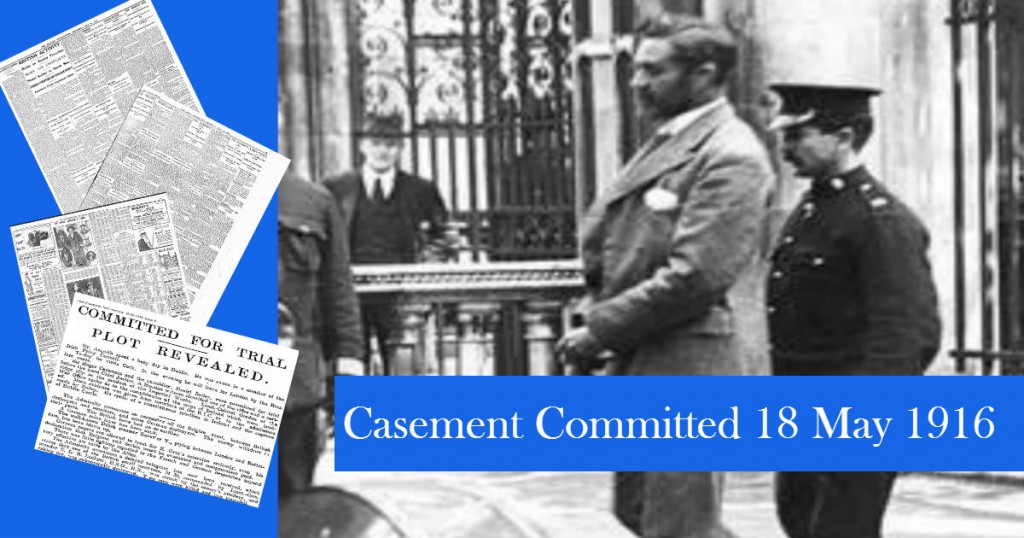 Extract Cork Examiner 18 May 1916 Roger Casement Committed
After an investigation of only three days the charge of high treason against Sir Roger Casement and the Irish ex-soldier, Daniel Julian Bailey, concluded as far as the Police Court stage is concerned this afternoon with their committal for trial before the Lord Chief Justice. The proceedings ended quite uneventfully, and naturally after Sir John Dickinson had spent the day hearing the statements of a number of witnesses whose evidence was necessary to complete the case for the Crown
The Court was crowded throughout the day, many of those who stood at the back of the court being women. In the morning chief interest centred about the expert evidence of two soldiers, a Russian officer and a British soldier, directed towards the nature of the arms and maps found in Ireland in connection with the case. The Russian witness identified one of the rifles as the product of the Russian Imperial works, while a cartridge clip was also found to be of Russian origin. Lieut-Colonel Gordon of the  War Office, gave some striking information as to the completeness of the maps of Ireland which were exhibited, and as to points of similarity between them and the Gorman war maps.
To continue reading download the pages below; I have selected pages from the Belfast Newsletter, Irish Examiner and the Irish Independent from the 18 May 1916
We hope you enjoy them!
Read every page from over 61 newspapers spanning 300 years. Read the events of the day as they unfold with a subscription to Irish Newspaper Archives.
Freemans Journal Thursday 18.05.1916 Page 3 Irish Examiner Thursday 18.05.1916 Page 5 - 3 Irish Independent MAy 18 1916 Page 3 Belfast Newsletter Thursday 18.05.1916 Page 5