Same Sex Marriages
As the same sex marriage referendum approaches, it may be worth reviewing the topic as it was portrayed at the beginning of this  century. Have perceptions changed or have they stayed the same? They definitively give us food for thought!
On the 1st of April 2001, the Netherlands became the first European country to legalise same sex marriages. The subject was not largely debated in the newspapers at the time. There are just a few articles mentioning the first lesbian legal marriage, one in the Irish Independent, from the 31st of March, 2001: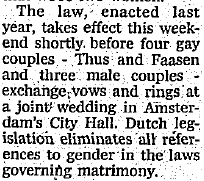 In  November of that year,  the Irish Independent mentions that Irish teenagers are not as trendy or as liberal as the teenagers from continental Europe: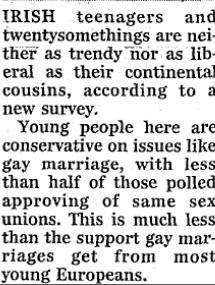 The discussions on the same sex marriages were also very tense in America at the time. President Bush, a devout Methodist had a very clear agenda as an August edition of the Irish Independent reports: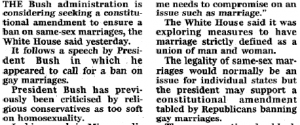 In 2001, as mentioned above, the Netherlands had passed legislation to recognise same sex marriages. Belgium and two Canadian regions followed suit. Countries such as Germany, Sweden, Denmark, France, Croatia and Argentina also permitted the registration of same-sex partnerships which brought some legal and taxation advantages, similar to married couples.
Even Italy was feeling under pressure to recognise such unions. With the support for same sex unions growing  and more countries preparing to legalise them, the Vatican  were up in arms, as Irish Independent from August 2001 reports: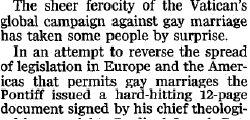 In Ireland, in 2004, a Fine GAEL councillor from Cork caused a stir when he announced that he had married his gay partner and was asking for same sex unions to be recognised here too. Again the Irish Independent from January 2004 wrote: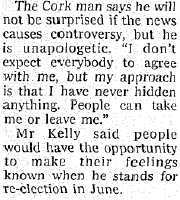 We are going to find out very soon how much has changed in Ireland over the last 15 years. More information on this topic is available from Irishnewsarchives.com