How the Titanic went down!
Read the full story of the Titanic 's  last moments true the eyes of the survivors. The below extract is from the Derry People 27.April.1912. You can download the full page and much more below!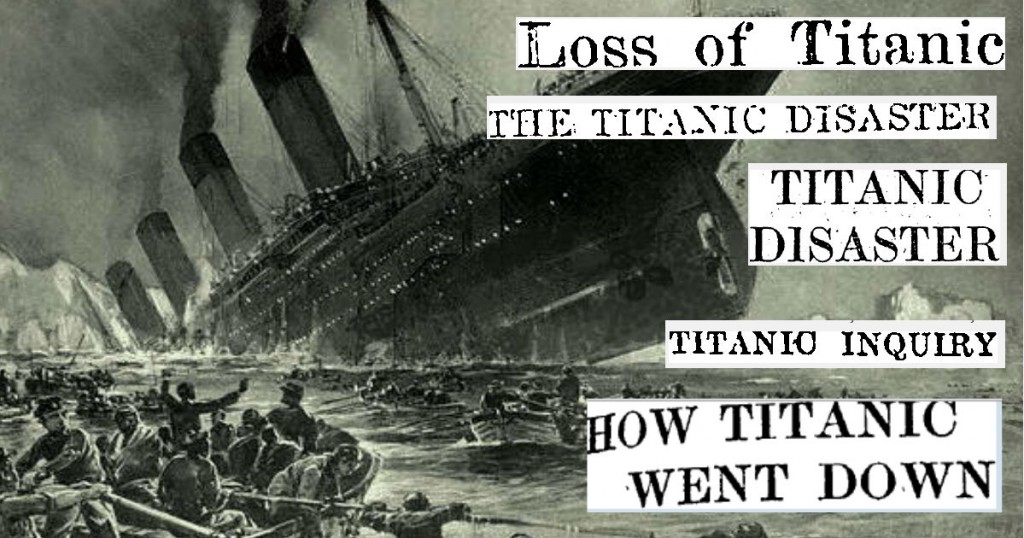 The True Story of the Titanic's Last Moments ( Derry People 27.April.1912)
The true story of the awful catastrophe of the Titanic's sinking is now told by various survivors, and goes to show that the circumstances were, perhaps, the most harrowing in the world's history. Captain Smith remained at his post heroically till the last, and did not, as erroneously reported at first, commit suicide.
As the Titanic was sinking the string band played. "Nearer my God to Thee," and as the boats were being rowed away their occupants could hear the strains of the hymn. The White Star Company have issued the following official statement of the number of those rescued and lost:
RESCUED-
First class passengers 2O2
Second class passengers 115
Third class passengers 178
Crow 206
Officers 4
Total 705
LOST-
Number of lives lost 1,635
The boats were lowered as fast as they were filled, and many passengers, in a frantic state, flung themselves into the sea. As the liner disappeared beneath the water, the survivors who were adrift in the boats heard two explosions, and in a moment the Titanic had gone down. Mrs. Marvin, of New York, whose husband was drowned, and an English girl, rowed a boat for four and a half hours.
THRILLING NARRATIVES OF THE DISASTER.
Full personal narratives of the loss of the Titanic are at last available from the lips of survivors who reached New York on Thursday night on board the Carpathia.
They go to make up a tale filled with the wildest, horror, but relieved by incidents of magnificent heroism, devotion, and self-sacrifice. There is still no very clear account of the exact manner in which the Titanic struck the iceberg.
The outstanding facts are that officers and passengers alike believed that the ship was unsinkable, and wholly failed to appreciate the seriousness of what had occurred until much valuable time had been lost.
Then when it was realised that the liner was doomed, a spirit manifested itself among those on board of which the world will read with a thrill of the heart.
To continue reading download the newspaper page 2 & page 7 below:
Read all about the first and final journey as the newspapers reported it at that time. Start you adventure today and unlock over 300 years of Irish and World history. Join today from as little as €10.00...
Donegal News 1903-current, Saturday, April 27, 1912 Pg 2
Donegal News 1903-current, Saturday, Front page April 27, 1912
Donegal News 1903-current, Saturday, April 27, 1912