The Nation mourned the lose of  Mr Thomas Kent Whitaker last week. TK Whitaker (08.12.1916 – 09.01.2017) was the chief architect of Ireland's economic path from protectionism to free trade. Through his long and esteemed career TK Whitaker dedicated his life to the civil service and promoted a better life for all the people of Ireland.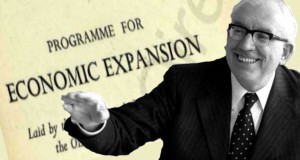 It can be said that TK Whitaker was the most influential public servant in the history of the State.  TK Whitaker entered the Civil Service after completing the leaving certificate with honours from the Christian Brothers School, Drogheda.  TK Whitaker was a high achiever and continued this throughout his career in the Civil Service, achieving first place in;
1934 Open Competitive Examination Clerical Offiers
1936 Open Competitive Examination Executive Officers
1937 Open Competitive Examination Executive Officers
1938 Open Competitive Examination Executive Officers
On the 29th of May 1956 the government  announced that TK Whitaker an assistant to the Department of Finance was to be the Secretary of the Department of Finance. During that same year the Connacht Tribune  9th.June.1956 reported on a meeting of the Statistical and Social Inquiry Society at the Royal Irish Academy  where Mr TK Whitaker poised a very ominous question:
HAS our greatly enlarged and much boasted State capital programme as a road to economic progress let us down?
This question was read from one of TK Whitaker's white papers however TK Whitaker would go on to produce many white papers but none more important then his inspirational paper; Economic Development in 1958, out of which grew the First Programme for Economic Expansion. Written during his time as the secretary of the Department of Finance, the ideas in this paper gave new hope to an Ireland from which young people were fleeing in their thousands after years of a stagnant economy and mounting unemployment.
Unusually this paper was produced with his name attached  and  the programme became known as the "Grey Book" which sought to bring  stimulus of foreign investment into the Irish economy.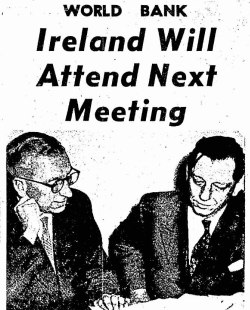 Thomas Kent Whitaker would go on to dedicate his life to Civil Service and was announced as the new Director of the Central Bank on the 20th December 1958
Thomas Kent Whitaker was nominated in 1977 as a member of 14th Seanad Éireann (1977-1981) and  made history by winning again in 1982. ( 1982 - 1982 15th Seanad Éireann)
Dr TK Whitaker received many national and international honours and tributes for his achievements during his lifetime, most notably the conferral of "Irishman of the 20th Century" in 2001 and Greatest Living Irish Person in 2002.
The above articles and text is just a small preview of a man whose life influenced and changed the economic course of a Nation.
In a short poem, Anna Whitaker recalled her grandfather as: "Our grandad Ken, a gem amongst men. A friend to so so many . . . son, husband, father, brother . . . the most kind-hearted and generous man."