The Ballina Herald & Mayo & Sligo Advertiser 1927 - 1962
The Ballina Herald was established in 1844 by Mr. J. Duncan and Richard Watson. The paper was produced weekly and in 1882 had a circulation of approximately 1500. It had a number of departments including; advertising, local news, law sessions, medical comments, foreign news, farming news.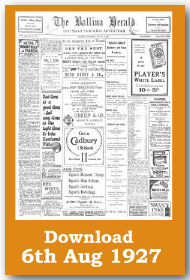 The Ballina Herald was first published in the same year as its sister paper the Tyrawly Herald and continued to print for 118 years until the Ballina Herald was merged with The Western People. The Ballina Herald ran from 1884 till 1962 and through the Irish Newspaper Archives resource you can gain access to the years 1927 – 1962 and get access to the full archive of The Western People Newspaper 1889 – current.
The last edition published 28.April.1962 includes an article bidding fair well to its readers. The article is titled "Our Last Bow". You can download the article below.
"Unlike other instances in recent times, however, when long-established papers have gone out of circulation, nobody will be thrown out of employment with the closure of the "Herald" files, and local people will be able to get their, local news on Friday with the publication of the Ballina edition of the "Western People. The "Herald" does not leave a legacy of despair but is bowing out in a cheerful, progressive atmosphere to make way for bigger and better things. It is this thought that predominates as we go about the production of this last issue of the familiar "Herald" in its own right, yet a tinge of regret lingers at the passing of an old and valued friend. To pretend otherwise would" not be to admit that the "Herald ' served Ballina well, and has a host of friends and well-wishers."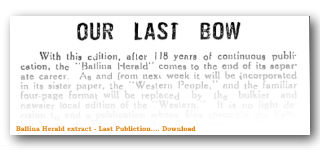 "It is no light decision to end a publication whose files chronicle the Famine Years, the Parnell era, the Land League, the 1916 Rising, the growth of modern Ireland, the very stuff of history"
Ballina Herald & Mayo & Sligo Advertise Newspaper Orientation:
neutral; independent (1912)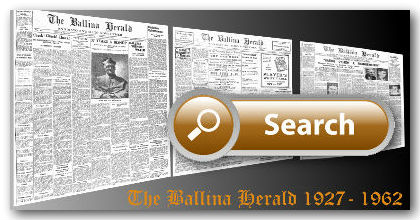 ---
People who viewed the Ballina Herald Newspaper also viewed the following newspapers: