The Ballinrobe Chronicle Newspaper Archives

The Ballinrobe Chronicle & Mayo Advertiser 1866 - 1903
The Ballinrobe Chronicle was established by Mr Gore Kelly in 1866. In the first edition of the Ballinrobe Chronicle 22.September.1866 Vol.1 the prospectus highlights the demand in the local area for a local paper.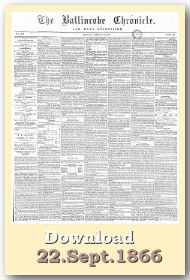 "It is matter of surprise that in an age of great intellectual activity, and in a town like Ballinrobe situated in the centre of an agricultural population, and surrounded by many facilities for commercial enterprise—this important district should heretofore have been without a Local Journal; although the want of such an organ of public opinion has for some time been urgently felt, and. repeatedly acknowledged"
The prospectus is used to provide an overview of the topics that the Ballinrobe Chronicle and Mayo Advertiser will cover rather than outlining its political aims and stance. The Ballinrobe Chronicle was an independent newspaper.
"The publication of the CHRONICLE, we intimated that it should be devoted to Agriculture, - Commerce, Politics, and General Literature; and independent newspaper – such is a brief enumeration of the leading features of the BALLINROBE CHRONICLE."
When Gore Kelly died on the 1st February 1891 aged 74 years and his daughter Mary Kelly took over as proprietor, editor and manager.
The Ballinrobe Chronicle & Mayo Advertiser Newspaper Orientation: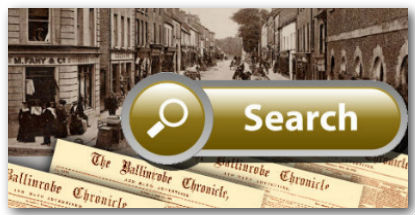 ---
People who viewed the Ballinarobe Chroncile Newspaper also viewed the following newspapers: