Belfast Newsletter

Brief History – Belfast Newsletter
The Belfast Newsletter was the first newspaper published in Belfast [and in Ulster] and the oldest surviving newspaper in Ireland. The Belfast Newsletter was established over 250 years ago in 1738 by Mr. Francis Joy. The original title was The Belfast Newsletter and General Advertiser, its first issue was in a single sheet-form. You can download the first page of the first edition for FREE below. The nineteenth century publications of the Belfast Newsletter are a treasure of information on local, national and world events. Under Henry Joy's editorship this was a liberal, non-government publication; after the mid 1790's The Belfast Newsletter became conservative, anti-Catholic and pro-government. Through the Belfast Newsletter ' s archives researchers will find political and legal news, summaries of foreign affairs, such as; The French Revolution, Irish and British Parliamentary news, local advertisements.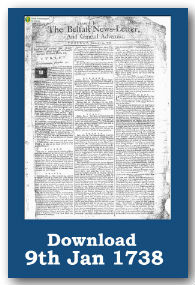 Contained in the early papers are detailed and informed reports on the Catholic Emancipation, the Repeal Movement, the rise of Temperance agitation and the setting up of the Queen's Colleges.
Extensive articles cover the Religious Revival of 1857, the Belfast riots of 1857, 1864 and 1887 and the growth of Belfast as a major industrial and commercial centre.
The Belfast Newsletter is a delight for researchers involved in genealogical research which offers accurate information on births, marriages and deaths in Ulster.
Trawl through the fascinating advertisements which highlight the diverse trade that was plied under Ulster's connection with Britain, America and the rest of the world through emigration and trade.
Belfast Newsletter Newspapers Orientation:
liberal (1752 - c.1790); conservative, Protestant (1795-1900+); "anti-liberal, anti-Catholic, antinational in every sense" (Madden); unionist; Orange (1868)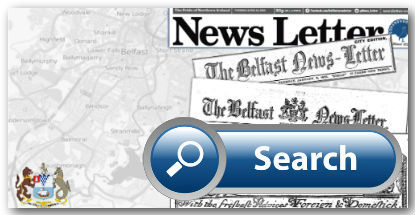 ---
People who viewed The Belfast Newsletter also viewed the following newspapers: