Chute's Western Herald Newspaper Archive 1828 - 1835

Chute's Western Herald was one of the first newspapers to be printed in Kerry. Other newspapers like the Kerry Chronicle and the Kerry Journal may have been published before Chute's newspaper but no copies of these papers exist pre1793. The Chute's Western Herald was founded by Pierce Chute.(1793). The paper was released during an economic boom in Ireland due to political changes made by Great Britain at that time.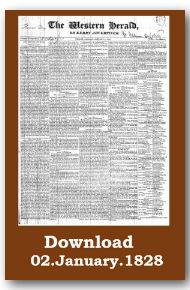 Pierce Chute's printing works and office were located on Nelson Street, now Ashe Street in Tralee. (The header image above shows Nelson Street). Ashe Street as it's known today is home to The Kerry's Eye newspaper.
Pierce Chute was an entrepreneur and his decision to open a regional newspaper in Tralee was well founded. Tralee has always been a very influential town both politically and economically so its newspaper history is of importance not only to the history of the Irish press but also to the history of Ireland. ( Janet Chute, 2006 )
Irish Newspaper Archives have 18 other titles from County Kerry including the Chute's Western Herald's main competitor The Kerry Evening Post.
Chute's Western Herald Newspaper Orientation:
Conservative, Protestant (Dublin Establishment)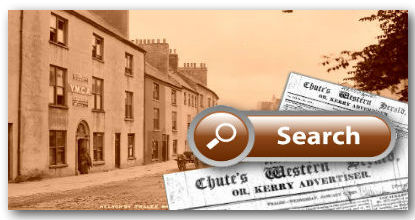 ---
People who viewed the Chute's Western Herald Newspaper also viewed the following newspapers: