The Derry Journal Newspaper
The Derry Journal is an Irish newspaper steeped in history. First published in 1772 the Derry Journal is the second oldest Irish newspaper still in existence today.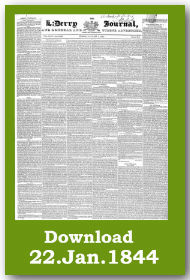 When first launched the Derry Journal was known as the London Derry Journal and Donegal & Tyrone Advertiser. The masthead also contained the motto: "Vita viratis Victoria." King (later Queen) and Constitution.
Irish Newspaper Archive a limited run of this historic newspaper running from 1844 – 1852 and 1914 – 1924. In 1829, a rift at the Derry Journal caused the Irish newspaper landscape to change. At the time, it was a Protestant, conservative paper. By 1829, new ownership precipitated a policy change. The paper suddenly became a supporter of Catholic Emancipation and a voice for the oppressed Irish, Catholic peasantry. William Wallen disapproved of this change and left to begin the Londonderry Sentinel. This new newspaper would last well into the 20th century. In 1882, the Derry Journal ran a series of reports about evictions in Carrowmenagh, county Donegal. The reports showed how children and elderly people were among the people who were being evicted in the county around this time (English 195).
In later years the Derry Journal became the only mainstream newspaper to have been banned on both sides of the border; firstly in 1932 and again in 1940.The Derry Journal had a stanch nationalist orientation and was banned briefly from the Irish Free State in January 1932 and later in 1940 second ban was enforced in Northern Ireland by the Unionist government.
The Derry Journal Newspaper Orientaton:
1772 - 1828 Conservative, Unionist
1829 - Nationalist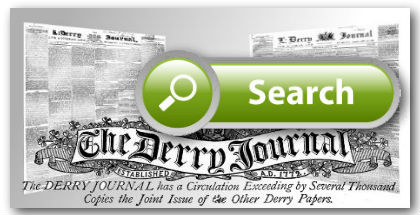 ---
People who viewed the Derry Journal Newspaper also viewed the following newspapers:
| | |
| --- | --- |
| | |
| | |