The Donegal Democrat Archive 1919 - Current

The Donegal Democrat 1919 - Current
The Donegal Democrat is a vital paper for genealogical research or Irish history research as the paper was the only one published in south Donegal from the mid-twentieth century on, and so has gained a reputation of being the local paper of record for Donegal.
The paper was first published on 6 June 1919, and was founded by John Downey. The editorial in the first issue set out that the paper's position and goals:
"To-day we go to press for the first time and to-morrow the public will peruse our columns, and many will criticise out efforts. We know it is a big thing we propose, the establishing of a non-political paper in a world of politics, but we believed that in doing so we are doing right. We are making our bow to the public at a critical period in our national and local history and it shall be ever our object to uphold anything that, will further the national and local interests."
The paper had a fairly militant, nationalist policy, which, during the Irish War of Independence, led to it being raided on several occasions by police and British soldiers, who on one occasion announced that they were looking for a "typewriting machine". But they left on being assured that there was no such machine on the premises. For its first years, the paper was completely hand set, with each letter of type being placed individually; it was not surprising therefore that there were only 10 pages, measuring 9 inches by 11 inches. Its front page contained mostly adverts, with no phoos in the paper at all. Over the next few years the paper gradually increased in size and circulation, and in 1922 got its first typesetting machine.
The Donegal Democrat is available through the Irish Newspaper Archives gateway from 1919 up to current year. Through the archive you will be able to search, view, share and save The Donegal Democrat. The Donegal Democrat's obituaries are available to search for your family heritage and genealogy while the Donegal Democrat's court news might hold the missing link to your research. Join today and get access to the world's largest and oldest Irish Newspaper Archive.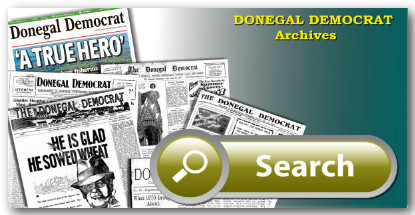 People Who Viewed The Donegal Democrat also Viewed:
| | |
| --- | --- |
| | |
| | |