The Drogheda Independent Newspaper Archives 1884 - Current
The Drogheda Independent was established in 1884 and offers over 133 years of Irish history. The Drogheda Independent was closely linked with the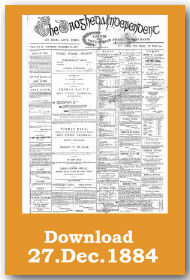 Land League movement and identified itself with the plight of the small farmer. The paper traces its origins to an Augustinian Nationalist priest, Fr James Anderson, a native of the town, who formed the Drogheda Independent Club in 1881 to foster nationalist opinion.
When established the Drogheda Independent came into conflict with two other prominent titles from the county; The Drogheda Argus & The Drogheda Conservative. The conflict between the papers can be seen in many of the outspoken articles by Fr. Anderson.
Fr Anderson took up the cause of Charles Stewart Parnell and Michael Davitt, the founding father of the Land League, and they returned their gratitude by playing a prominent role in the early development of the DI, Parnell as a shareholder and Davitt who encouraged the appointment of Michael A. Casey as editor to champion the cause of the small farmer. The first directors of the Drogheda Independent represented a wide cross-section of the town's business and political life.
Source of history ( Waterloo Directory )
Drogheda Independent Newspapers Orientation:
nationalist; independent