The Dublin Evening Post Newspaper Archive
The title 'The Dublin Evening Post' has been used several times during the early 17th – 19th century. The Irish Newspaper Archive resource hosts the archive of the Dublin Evening Post from 1796 – 1798 from what information we can gather we believe that the paper at this time was owned and printed by a William Gilbert and printed by a C. Campbell.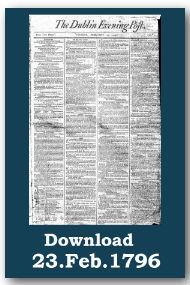 The newspaper was an incredibly influential title distributed throughout all the main towns of Ireland and on the continent with sales recorded in the England and as far off as the United States Of America.
The newspaper defended the Irish trend of reproducing material and, occasionally, ignoring copyright. Without it, the paper argued "reading in Ireland would become too great a luxury and would 'as in the days of barbarous ignorance be confined solely to the cloister
The Dublin Evening Post Newspaper Orientation

:
anti-Union (1803); oppositional (1812); moderate (1816); agitative for Catholic emancipation (1826); Catholic (1826-1852+)
---
People who viewed the Dublin Evening Post also viewed the following newspapers:
| | |
| --- | --- |
| | |
| | |