The Finn's Leinster Journal Newspaper Archive 1771 - 1828
The Finn's Leinster Journal is undoubtedly one of the most important newspapers available through Irish Newspaper Archives. The Finn's Leinster Journal had many names and its mast head changed accordingly. The Finn's Leinster Journal is one of the oldest and most influential newspapers from Ireland and was always associated with strong Catholic and tenant rights at one stage it had double the circulation of any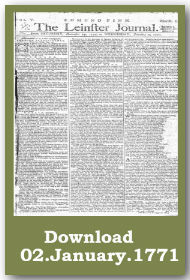 newspaper in the country.
The Journal was published in Kilkenny but circulated beyond the city and county of Kilkenny to Dublin and various parts of England. The newspaper was founded by Mr Edmund Finn in 1767, it brought prosperity to the Finn family. With the passing of the late Edmund Finn his wife Mrs Catherine Finn took the helm and made quite a name for herself in the Irish Newspaper industry.
Catherine focused primarily on the gentry and it is said, "No other woman played such a major role in the Irish newspaper industry." Catherine organised the editorial content, sold the advertisements and oversaw the printing and distribution whilst raising seven children.
The Irish Newspaper Archive collection of the Finn's Leinster Journal shows the following changes to the mast head:
Edmund Finn, The Leinster Journal 1771 – 1776

Finn's Leinster Journal – 1778 to 1801

Patrick Kearney, The Leinster Journal January 1802 – June 1802

The Leinster Journal – July 1802 to 1828
The Finn's Leinster Journal Newspaper Orientation:
Nationalist; Catholic; ultra-liberal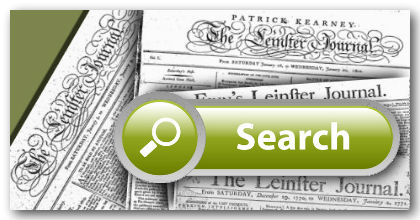 ---
People who viewed The Finn's Leinster Jounral Newspaper also viewed the following newspapers: