Irish Daily Independent Newspaper Archive
The Irish Daily Independent was established 1890 with its first publication Vol 1 No.1 on the 18.December.1891 the Irish Daily Independent absorbed the Daily Nation newspaper and the merger of the papers can been seen through the change of mast head from September 1900. The title then became the Irish Daily Independent & Daily Nation. Download the first front page change here.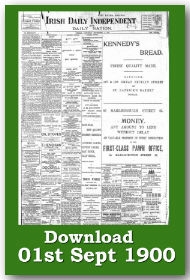 The newspaper was created to promote a pro-Parnellite position following a split in the Irish Parliamentary Party. The country's leading daily newspaper at that time was the Freemans Journal which positioned itself as anti-Parnellite and newspapers such as the Irish Daily Independent provided a platform for pro-Parnellite MP's.
The political scandal to split the IPP party between pro or anti Parnellite groups was due to an affair with a Mrs Katherine O'Shea. During Katherine O'Shea's divorce proceedings, it came to light that Parnell was the father of her 2 children.
The Irish Daily Independent was purchased in 1905 by Mr William Martin Murphy which is not without a touch of irony as Mr William Martin Murphy was staunch anti-Parnellite voice. The Irish Independent went on to absorb the Freemans Journal to become Ireland's leading national daily newspaper till this day.
The Irish Daily Independent Newspaper Orientation:
Independent, nationalist & conservative (pro-Parnellite pre 1905)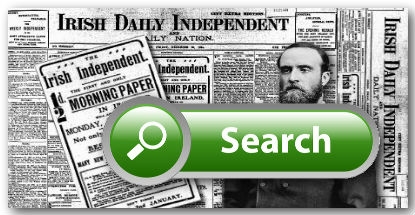 ---
People who viewed the Irish Daily Independent also viewed the following newspapers:
| | |
| --- | --- |
| | |
| | |