The Irish Examiner 1841 - Current

The Irish Examiner / Cork Examiner 1841 - Current
The Cork Examiner, known today as, The Irish Examiner is the South of Ireland's oldest daily newspaper. Established in 1841 by Mr John Francis Maguire. The Cork Examiner was setup just before the start of The Great Famine and covers a catastrophic period in Ireland's historical past. The Cork Examiner covered the Munster region and the County of Cork was one of the worst counties affected by the famine. The Cork Examiner provides our members with access to a real view of the effects that The Great Irish Famine had on Cork and the surrounding areas.
The Cork Examiner also carried international news and was the very first European newspaper to print news of the American civil war. The County of Cork had a large port where the reporters rowed out to transatlantic ships togather stories from across the water. The County of Cork is also synonymous with the tragic Titanic and The Cork Examiner was the last newspaper to take photographs of the Titanic on its maiden voyage.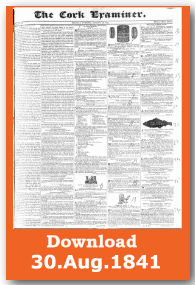 The Cork Examiner had a conservative nationalist agenda which supported the Fine Geal political party. The Cork Examiner up held the Anglo-Irish treaty, supported tenant-rights and denominational education. The Cork Examiner is an essential newspaper for Irish genealogy and contains thousands of notices through the Irish obituaries. The Cork Examiner also provides a regional view of life in the Munster region during the 1800s – 1900s.
John Francis Maguire continued as the proprietor of the Cork Examiner until his passing in 1872 when Mr Thomas Crosbie became the sole proprietor and went on to become one of the most prominent names in the newspaper business. The title changed its name to the Examiner in 1996 and then changed the title to The Irish Examiner in 2000. The Irish Examiner is one of Ireland's most read newspaper and since its early foundation has continued to serve breaking news on regional, national and international news.
The Cork Examiner Orientation:
liberal (1876); nationalist; Catholic (1848-1872+); Repealist (1848); anti-Parnellite; Redmondite; constitutional and moderate in politics; Fine Gael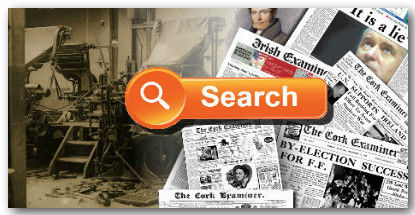 ---
People who viewed the Irish Examiner also viewed the following newspapers:
| | |
| --- | --- |
| | |
| | |