The Irish Independent Newspaper Archive 1905 - Current
The Irish Independent archive is one of Irish Newspaper Archives flagship titles. Irish political, social and cultural life can be researched through the archives of the Irish Independent. The newspaper's launch resulted from the merger of the Daily Nation, the voice of Tim Healy's People's Rights Association, and the Irish Daily Independent. The merger came about after John Redmond and Tim Healy had induced William Martin Murphy to purchase the Irish Daily Independent, around 1904, to prevent the Freeman's Journal from purchasing the title.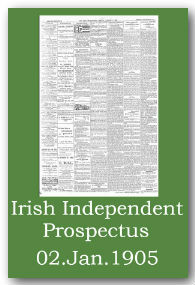 The newspaper's business objective was to break the Freeman's Journal's monopoly on the Irish market and achieved this by selling the paper at half the price of the Journal while also offering a far more modern and less partisan approach to journalism. Some say that William Martin Murphy brilliantly copied Lord Northcliffe's business model on the release of The Daily Mail in 1896. Not only did William Martin Murphy break the Freeman's Journal's monopoly he ultimately forced the Freeman's Journal to cease publication in December 1924, and the Independent purchased its assets and title. For decades, afterwards the Independent carried in its masthead the legend 'Incorporating the Freeman's Journal'.
The Irish Independent has been reporting on Irish events and world events for over 112 years and the entire archive is available from its inception right up to current date through the Irish Newspaper Archives gateway.
The events of the 1916 Easter Rising were covered in detail by the Irish Independent. The Independent wrote two notorious editorials, on May 10, it stated that 'we do not think that extreme severity should be generally applied... When, however, we come to some of the ringleaders, instigators and fomenters not yet dealt with, we must make an exception'. Two days later, on May 12, it called again for the execution of those leaders who 'remain undealt with'. The leaders in question, James Connolly and Seán Mac Diarmada, were shot early on 12 May, a few hours after that second editorial had gone to press; they were already dead when most people read it... [Murphy's] bloodthirsty editorials in 1916 [are] seen as part of a personal vendetta against Connolly, one of his chief adversaries in the 1913 lock-out." (Larkin "Out of Step").
The Irish Independent Newspaper Orientation:
Independent, Nationalist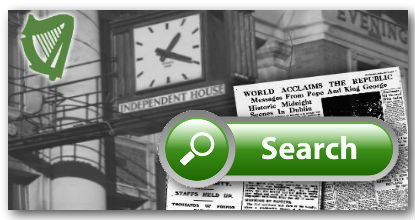 ---
People who viewed the Irish Independent newspaper archive also viewed the following newspapers:
| | |
| --- | --- |
| | |
| | |