The Irish Press Brief History 1931 - 1995:
The Irish Press Newspaper is a title that needs no introduction. The Irish Press newspaper is engrained in contemporary Irish history and it's very name will immediately evoke thoughts of Eamon de Valera. The Irish Press Newspapers founder; Eamon de Valera was one of Ireland's most prominent politicians and statesman in twentieth-century Ireland. With a political career spanning over half a century, from 1917 to 1973. De Valera was a commander during the 1916 rising and leader during the Irish war of Independence. Serving several terms as head of government and state.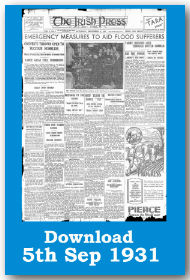 The Irish Press Company was registered in 1928 however the Irish Press newspaper did not publish its first journal till the 05.September.1931. Like the birth of all Irish periodicals from this era the origins of the Irish Press offer a glimpse into the social and political environment.
The Irish Press was established to provide competition against the pro Cumann na nGaedheal/Fine Gael Independent Newspaper Group and pro-Union and mainly protestant read, Irish Times newspaper.
The Irish Press Founder Eamon de Valera set out the Irish Press objectives,
"To give the truth in the news, that will be the chief aim of The Irish Press. The Irish Press will be a truthful journal and a good newspaper"
The first edition of the Irish Press was published on the eve of the 1931 Kilkenny v Cork All Ireland Hurling final ( Download the first front page here; Irish Press 05.September.1931 ). The front page of the first edition carries a picture of Margaret Pearse, mother of Padraig and Willie Pearse officially starting the printing presses. The Irish Press initially accomplished great things with a circulation of 200,000 at its peak and launched The Evening Press & Sunday Press titles.
Unfortunately, the early successes did not last and the final issue of the Irish Press and Evening Press was published on Thursday, 25 May 1995. ( Download the last edition of the here, Irish Press 25.May.1995). Many attempts with product relaunches and reinvestment could not prevent the inevitable closure of the Irish Press Newspaper. The Irish Press sadly closed with the loss of 600 jobs and a debt of £20 million.
Gain access to the entire Irish Press Newspaper Archive through the Irish News Archive gateway.
The Irish Press Newspaper Orientation
Nationlist / Republican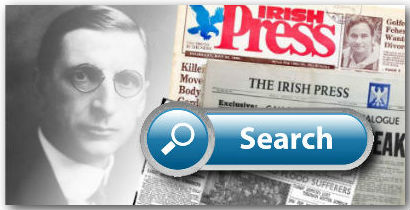 ---
People who viewed the Irish Press Newspaper Archive also viewed the following newspapers:
| | |
| --- | --- |
| | |
| | |