The Kerry Advocate Newspaper Archive 1914 to 1916
The Kerry Advocate Newspaper ran for a very short period of time. There is little known about the origin of the Kerry Advocate what we do know from the Kerry Advocate's publication is that it contains detailed information on commerce from the Kerry region. The print contains fantastic advertisements from the day and there was a supplement which show cases traditional musical notes and Irish poetry. The paper also details court news and newspaper obituaries.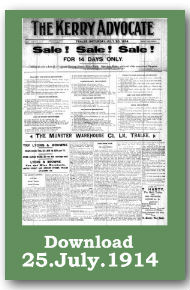 The Kerry Advocate ceased publication on the 06th May 1916 however it is not believed that the paper shut as a result of the 1916 Easter Rising. The Kerry Advocate is available through the Irish Newspaper Archives gateway.
The archives contain 20 regional newspapers covering County Kerry reporting from 1813 to current date.
If you would like to offer any information on the origin or editors of The Kerry Advocate please contact us on the below social channels.
The Kerry Advocate Newspapers Orientaton:
Independent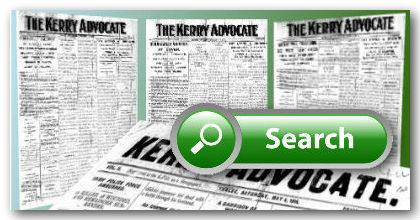 ---
People who viewed The Kerry Advocate Newspaper also viewed the following newspapers: