The Kerry Champion Newspaper 1928 – 1958
The Kerry Champion newspaper was established in 1928 by Mr Tommy Lynch and Mr. P.J. Cahill. Commonly known as the "Champion" newspaper it circulated in County Kerry, north Cork and west Limerick. The masthead carries the motto "Kerry's most popular weekly paper".
Tommy Lynch played a leading role in Tralee's political and social life. He was an active republican and a member of the Irish Volunteers from its inception, acting as an intelligence officer till 1920. Tommy Lynch was also a strong Finna Fail supporter, helping to establish the Tralee branch. Download the Late Tommy Lynch's bereavement notice HERE.
The Kerry Champion was a beautifully curated newspaper packed with events and local news from around County Kerry, from 1940 on it carried some excellent illustrations and some photographs. Researcher will find detailed information in the obituary section and plenty of court room reports.
The last edition was printed on the 29th March 1958 in which it sights the rising cost of production as the cause for the paper ceasing production.
The Kerry Champion Newspaper Orientation:
Catholic, Republican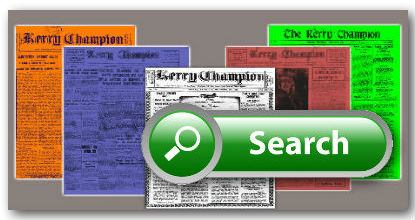 ---
People who viewed The Kerry Champion Newspaper also viewed the following newspapers:
| | |
| --- | --- |
| | |
| | |