The Kerry Evening Post Newspaper Archive 24.May.1813 to 29.September-1917
The start date for this journal is unknown however there are conflicting reports that The Kerry Evening Post was established in 1774 according to The County Kerry Society; 1923: 13 and 1793 from another source Casey 1963:227 but no copies exist until 1813 and therefore there is no way to truly know when The Kerry Evening Post began its publication.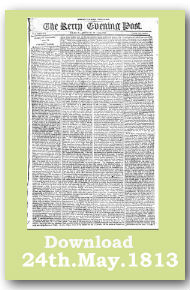 The Kerry Evening Post was the first rival newspaper to the Chute's Western Journal from 1813 on. The Kerry Evening Post was set up by two brothers, John and Charles Eagar and it was the conservative answer to Chute's more liberal journal. In the pages of the Kerry Evening Post there are mainly announcements and minutes of the protestant meetings in the county while Chute's Western Herald carries the details of both the protestant and catholic meetings. Chute, a protestant himself, carried many of Daniel O'Connell's speeches and stories about the catholic emancipation in the pages of his newspaper while the Eagar brothers only put in big stories about the cause. (Janet Chute; 2006)
The Kerry Evening Post was much excerpted by Cork & Limerick papers. It "advocates a Liberal Reform of the Magistracy, and the poor laws. This journal contains some spirited and even daring articles, suggested no doubt by conscientious motives. The local information is always ample and well selected". The paper focused on a small but cohesive readership of Protestant Loyalists (Cronin 59).
The Kerry Evening Post Newspaper Orientation

:
Protestant, Conservative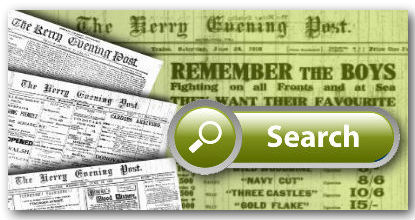 ---
People who viewed The Kerry Evening Post Newspaper also viewed the following newspapers:
| | |
| --- | --- |
| | |
| | |