The Kerry Examiner & Munster General Observer 1840 - 1856
The Kerry Examiner Newspaper provides a record of regional, national and international news. From the very first edition the Kerry Examiner carries news from India, France and Russia with a front page dedicated to the great Liberator also known as Danial O'Connell. The newspaper has editorial pieces from the House of Lords and excerpts from newspapers like the Bombay Times, The Pilot and The Dublin Evening Post.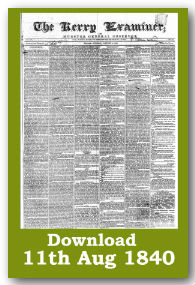 The proprietors where Mr. Patrick O'Loughlin Byrne (1851 - 1856) & Mr. Patrick Robert Byrne (1843 - 1849). The newspaper saw its self as an advocate of change on Ireland and carried the following motto on its first edition:
"For a nation to be free it is sufficient that she wills it" – Lafayette
Vol. 1; 11.August.1840 Page 2 carries the prospectus outlining the newspapers aims and opinions. You can download the prospectus HERE. The prospectus outlines its position on religion and politics providing details on the articles it will carry:
"The interest of trade will be regularly attended to. The state of the markets and the funds, agricultural information, news connected with the progress of the great TEMPERENCE movement, commercial and sporting intelligence should be ample and carefully furnished through the columns of the Examiner"
The Irish Newspaper Archives resource has over 19 newspapers from County Kerry. Join today and get access 300 years of Irish history.
The Kerry Examiner Newspaper Orientation:
Progressive reform; Liberal; Nationalist; Catholic
---
People who viewed the Kerry Examiner also viewed the following newspapers: