The Kerry Independent Newspaper Archive
The Kerry Independent was founded, published and printed by a Mr Henry Brassill. The newspaper circulated throughout County Kerry however it is not widely known to have circulated in the surrounding counties. The Kerry Independent offers a reliable source of information relating to the topics of the time that affected the Catholic population and the rights of tenants.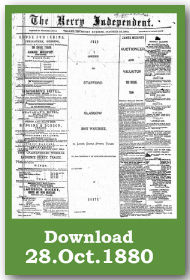 Through the pages of the Kerry Independent you will find a wealth of information on the ejectments (evictions) of the time. The articles highlight the practice of ejectment was well established before Ireland's Great Famine. The newspaper court sessions offer detailed information on the cases of the time and punishments handed out.
There is now doubt that the Kerry Independent was an organ of the Catholic clergy, gentry, merchants and farmers. The Kerry Independent voiced its support for Home – Rule and Tenant Rights.
The Irish Newspaper Archives resource hosts the archive from 28. October.1880 to July.1884. The exact date of the Kerry Independents release is unknow and the first copy on the 28th October contains no Vol number or prospectus.
The Kerry Independent is one of 19 newspapers available from County Kerry through the Irish Newspaper Archives resource. To see the full list of Kerry papers please view : Publication list
The Kerry Independent Newspaper Orientation:
Catholic; Nationalist; Home Rule; tenant rights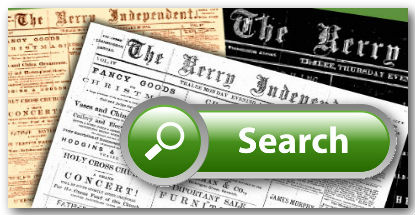 ---
People who viewed the Kerry Independent Newspaper also viewed the following newspapers:
| | |
| --- | --- |
| | |
| | |