Kilkenny People Archive 1895 - Current

The Kilkenny People 1895 – Current
The Kilkenny People is available on the Irish Newspaper Archives resource from the 26.October.1895 however The Kilkenny People newspaper was established in 1893. The newspaper was established by Edward Thomas Keane and P.J. O'Keefe and was launched as a Parnellite newspaper.
Mr Edward Thomas Keane was a controversial figure with a long history of working in the newspaper industry. Before establishing the Kilkenny People newspaper E.T. Keane worked as a journalist in the Munster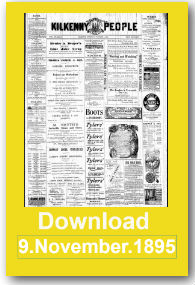 News in Limerick, The Clonmel Nationalist, Kilkenny Moderator, and Kilkenny Journal.
The Kilkenny People's editor was extremely critical of the Irish parliamentary party and became a firm supporter of Sinn Fein. In 1917, the Kilkenny People newspaper was suppressed by the authorities for 14 weeks due to his support and of W.T. Cosgrave. Due to E.T. Keane's continued support of the independence movement the newspaper was further suppressed in 1919.
E.T. Keane was arrested and spent time in Cork jail only to be released on health grounds.
The Kilkenny Newspapers Orientation:
Nationalist; Catholic; Parnellite
---
People who viewed The Kilkenny People also viewed the following newspapers:
| | |
| --- | --- |
| | |
| | |