The Leinster Express Newspaper Archive 1831 – Current
The Leinster Express Newspapers is one of Ireland's oldest regional newspapers, established in 1831 by Henry W. Talbot. Over the centuries, the Leinster Express Newspapers distribution through Ireland's counties have changed. The change in distribution can been seen in the subtitles:
13.October.1838 - "Queen's and King's counties, Kildare, Carlow, Wicklow, Kilkenny, Tipperary, and midland general advertiser."
1843 to 1851, the full subtitle is "Queen's and King's counties, county of Kildare, Carlow, Kilkenny, Tipperary, Wicklow, Dublin and midland mercantile and agricultural advertiser."
February 1851, the subtitle becomes "Kildare, Queen's & King's counties, Meath, Wicklow, Dublin and midland mercantile and agricultural advertiser"; this is still seen in 1900.
The initial motto used when the paper was first published is a quote from Benjamin Franklin, that begins,
"If by liberty of the press, were to be understood merely the liberty of discussing the propriety of public measures..."
and can be seen on the first page of the first edition which can be downloaded here.
Henry W. Talbot set out the ethos of the new publication in its first edition: "Bound to no party, the partisans of no faction, we pledge ourselves to perform the arduous duties of a public journalist fearlessly and impartially, neither aspiring to the patronage of the great and powerful, or courting the smiles of an ephemeral popularity."
The Leinster Express has served the population Laois for many decades and is still going strong today. Now part of the Iconic Newspaper Group which owns a number of Irish titles which are available through the Irish Newspaper Archive gateway:
Dundalk Democrat
Leinster Express
The Leinster Express Newspaper Orientation:
Indpendent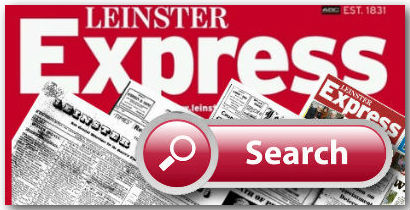 ---
People who viewed the Leinster Express Newspaper also viewed the following newspapers:
| | |
| --- | --- |
| | |
| | |
We would like to thank the Waterloo Directory for assisting with the history of the Leinster Express history page.