The Mayo News Archive 1893 - Current

The Mayo News 1893 – Current
The award-winning Mayo News newspaper has been reporting on regional and national affairs for over 120 years. The Mayo News was established in 1892 by William and Patrick Dorris. In the early periods of The Mayo News publication it was said to be a radical agrarian journal. In the 1890's and early 1900's it reported on tenant evictions and police brutality. The Mayo News archive consists of 83,831 thousand pages and is ready for search and viewing.
The Mayo News reported from a region of Ireland which experienced an elevated level of starvation and disease during the famine period. It is said that over 95% of the county's population relied on potatoes as their main source of food. In 1879 one of Ireland's greatest social movements began when Michael Davitt joined forces with Charles Stewart Parnell to win back the land for the people. The National movement set about stopping evictions for the non-payment of rents.
County Mayo is also the site where an incident between a landlord; Captain Charles Cunningham Boycott and the locals resulted in a new word been adopted into the English language; Boycott. Captain Charles Boycott was ostracised for his treatment of the local population which became known as "boycotting" .
July 3rd 1897 The Mayo News reported on Captain Boycotts death; "The death of Captain Boycott, which took place last week at his residence, Flixton near Bungay, England attracted but little attention and was barely mentioned in the daily papers. Yet it is no exaggeration to say that his name will live forever"
The Mayo News is an incredible resource for Irish History and Irish genealogy research. Track your ancestors through the Mayo News obituaries and local reporting.
In more recent times The Mayo News was named as European Newspaper of the Year 2007 & 2014 (Local news category)
The Mayo News Newspaper Orientation:
Nationalist, Sinn Fein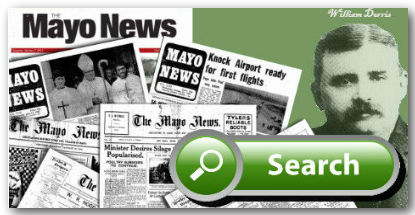 ---
People who viewed the Mayo News also viewed the following Newspapers:
| | |
| --- | --- |
| | |
| | |