The Sligo Champion 1879 - 1899 / 1915 - Current
The Sligo Champion is one of Ireland's oldest and leading regional newspaper titles. The first edition of the Sligo Champion was published on the 04.06.1836 from Stephen Street, County Sligo. Mr Edward Howard Verdon was the founder and editor of the newspaper and Mayor of Sligo four times. On the day of it's first publication it is said that crowds gathered outside the premises from 8:00am although the paper was not due for release till 1:00pm that day. Edward Howard Verdon was the sole propritor and editor of the paper from 1836 – 1858.
The Sligo Champion was a strongly Catholic newspaper in its outlook and used the Motto:
"Truth Conquers"
Although the Sligo Champion described its political allegiance as one of "independent & natural" it's real view could be seen through editors such P.A. McHugh. Editor from 1885 – 1909; he was prosecuted in 1888 and 1889 for publishing intimidatory notices. Mr McHugh used The Sligo Champion to highlight Balfour's policies and by doing so brought himself great local attention from which he received purses of money when he was released from jail.
The following passage offers a glimpse into the Sligo Champion's nationalist position: "we shall not take sides where the candidates contesting [for election] are Nationalists. When a candidate declares himself a Nationalist and is ready to take his stand on a democratic platform, and will give the necessary pledges, we are not going to throw any influence we may possess against such a man. We will wish him God speed, and leave it to the ratepayers to decide in the ballot box what position he should hold on the day of polling"
The Sligo Champion Newspaper Archive is available from 1879 to 1899 and then from 1950 to current. The period from 1900 – 1949 is currently been digitised.
The Sligo Champion Newspapers Orientation:
Independent and neutral; Catholic; radical (1846); liberal and nationalist (1879)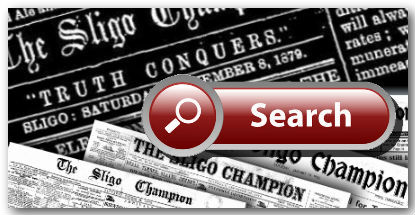 ---
People who viewed The Sligo Champion also viewed the following Newspapers: