The Ulster Herald and Provincial Advertiser
The Ulster Herald first went to print on the Friday, 31ST.August.1901 and in the first edition which you can download below the editor sets out its prospectus. The Ulster Herald was to be a paper to support the Nationalist views:
Prospectus: "The Ulster Herald makes its first appearance today, and appeals with confidence for the support of the people of the province in which its name is associated. The time is particularly opportune now that the misunderstandings and the dissensions that have paralyzed the National movement for some years are at an end, and the people are engaged in a united effort to make up for the inaction of the past...The Herald will advocate the views and opinions of the Nationalists of Ulster on all questions affecting their rights and interests,
and in doing so will devote special attention to local matters which affect the every day lives of the people"
Thankfully the paper was well received and in its second edition printed the following "the unanimous chorus of approval with which our first issue was everywhere received, has found echo in the columns of many of our contemporaries, who have extended to us a warm and generous welcome to the ranks of Irish journalism"
From the very beginning the Ulster Herald and Provincial Advertiser commanded a large audience and today The Ulster Herald circulates in the County town of Omagh and surrounding towns and villages. The population of Omagh town and suburbs is approximately 24,000 people.
The remaining towns where the Ulster Herald has high penetration include: Ballygawley, Beragh, Carrickmore, Castlederg, Dromore, Drumquin, Fintona, Gortin, Greencastle, Killycogher, Loughmacrory, Mountfield, Newtownstewart, Plumbridge, Omagh, Seskinore, Sixmilecross, and Trillick.
(The historical backgroud for this newspaper title was supplied by the Waterloo Directory )
.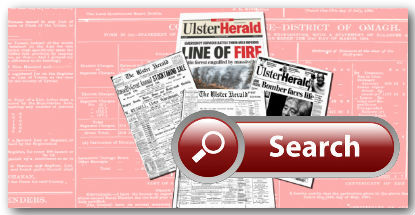 ---
People Who Viewed The Ulster Herald also Viewed:
| | |
| --- | --- |
| | |
| | |