The Waterford News Historical Newspaper Archive
The Waterford News offers a wealth of information from County Waterford and the surrounding areas. The archive spans 169 years offering insight into local and the national events. Established on the 22.Sept.1848 by Mr Cornelius P. Redmond the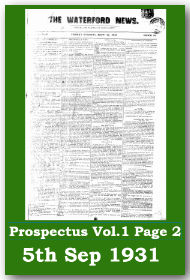 newspaper was the first journal published in Waterford. The prospectus published Vol.1 page 2 (download) highlights the publications low cost and high number of subscribers. The new journal positioned itself as a paper for all people;
"Subscribers-men of large means – men of small means, and men who never subscribed for a paper before, have all honoured the Waterford News with their names and subscriptions"
The Waterford News publication printed under many different mastheads and absorbed titles throughout its early years.
The newspaper absorbed the Waterford Evening News and its masthead altered 18. April.1839 to The Waterford Evening News & General Advertiser. The publications masthead changed on the 05th.April.1851 to The Waterford News & General Weekly Advertiser.
The Waterford News incorporated the Waterford Chronicle and Munster Advertiser on the 09th.May.1849.
The newspaper is still printed today and has the highest circulation in county Waterford the masthead changed on the 09.January.1959 and became The Waterford News & Star
Waterford News & Star Newspaper Orientation:
Nationalist; independent and neutral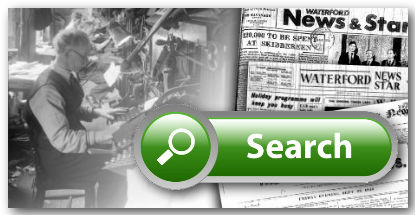 ---
People who viewed the Waterford News & Star also viewed the following newspapers:
| | |
| --- | --- |
| | |
| | |