The Western People Newspaper Archive 1889 – Current
The Western People was founded by P.G. Smyth and T.A. Walsh and established in 1883. The Western People newspaper had a nationalist view and circulated in Mayo, Sligo, and Roscommon. The early publication of the Western People proudly used the motto:
"The West is Awake"
One of the Western People's founding members; Patrick Grehan Smyth was Mayo's first G. A. A. President and a well-known author. P.G. Smyth's most famous publication was "Wild Rose of Lough Gill".
The Ballina Herald newspaper (1844 – 28 April 1962), later named 'Ballina Herald and Mayo and Sligo Advertiser', merged with the Western People in or around 1962.
The Ballina Herald newspaper archive is also available on Irish Newspaper Archives from 1927 – 1962.
The Western People is an invaluable source of information for genealogical research and Irish history. The paper reported full reports of all nationalist rallies and meetings in the area.
The Western People newspaper changed their motto in 1894 to the "The leading journal of the province"
Join today and enjoy the Western People and 69 other Irish Newspaper titles.
The Western People Newspaper Orientation:
Nationalist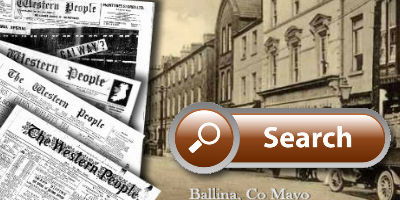 ---
People who viewed the Western People Newspaper Also viewed the following newspapers: