Westmeath Examiner Newspaper Archive 1882 - Current
John Patrick Hayden (25 April 1863 – 3 July 1954) the founder and first editor of the Westmeath Examiner. Established the Westmeath Examiner before his 20th birthday. J.P Hayden was a well-known Irish Nationalist and an active campaigner during the Land War and Plan of Campaign of the 1880's. He was imprisoned four times by the British administration under different Coerican Acts. The Westmeath Examiner to this day is a vital organ for regional news and national news serving the County of Westmeath. While many other papers from the county disappeared over time the Westmeath Examiner has survived for over 135 years and today has a circulation of over 29,000 people.
However during the 1890 Irish Nationalist split over Parnell's leadership the paper was boycotted by many and only survived through a pact between Unionists and Parnellites on the Mullingar Board of Guardians, dividing advertising between pro-Parnellite and Unionist papers and excluding the clericalist Westmeath Independent.
In the first edition of the Westmeath Examiner 28.September.1882 ( Download Available ) the editor sets out the newspaper's prospectus.
"In presenting to our readers today the first number of the Westmeath Examiner and Longford and Meath Reporter, it may be right to say a few words as to the reasons which led to the undertaking...the vast majority of the people in so important a district are underrepresented by a local organ. This is not as it should be. The people showed months ago, when an effort was made to meet this want, that they felt its existence [was necessary]...one of the principal aims of the Examiner will be to keep alive and intensify the spirit of self-reliance which now pervades the people, to give greater facilities on all occasions for the free expression of the people's wishes"
Westmeath Examiner Newspaper Orientation:
Nationalist, secular, pro-Parnell (1882)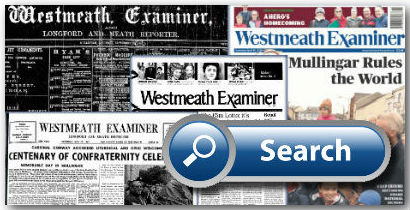 ---
People who viewed the Westmeath Examiner Newspaper also viewed the following newpapers:
| | |
| --- | --- |
| | |
| | |