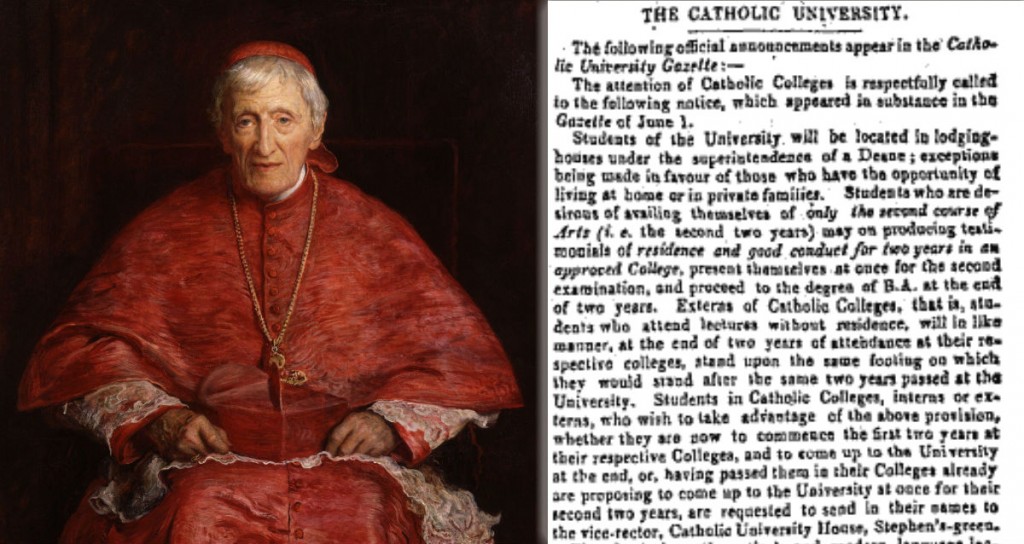 The Catholic University Opens 03.November.1854 ( UCD )
In October 2019 Pope Francis paid special tribute to the newly canonized St. John Henry Newman. In Ireland the canonization was timely as November marks the 165th anniversary of the opening of the Catholic University with Newman as its first rector and principal architect. The opening of a Catholic University had long been debated and came in the wake of the Great Famine and of the Maynooth Grant controversy of 1845. Much of the debate stemmed from the publication of Newman's 1852, The Idea of a University, which was widely circulated throughout Ireland and elsewhere.
In November 1854 Irish national and provincial newspaper proudly announced that the Catholic University would soon open and provide an education in a wide array of studies including the classics, maths and modern language classes. On Friday, 3
rd
November 1854 the Catholic University of Ireland opened its doors at 86 St Stephen's Green. One newspaper reported that 'there was no pomp and circumstance'. Instead 'quietly and peacefully' the institution commenced. The roll call on that morning was small with only twenty students enrolled but which included Daniel O'Connell, grandson of the Liberator, and the sons and grandsons of British and European peers. The official opening took place some days later on 9 November with Newman presiding. The following year Newman added the Catholic University Medical School, which over time came to symbolise the emergence of Catholic Ireland. By the end of the century it had become the largest medical school in the country and would produce a number of excellent and well known doctors. A theologian, poet, Catholic priest and cardinal, Newman was born in 1801 and before his conversion to Catholicism was an Oxford academic, Anglican preacher, and public intellectual. During his term as rector of the Catholic University he formed the basis for one of the great success stories in Irish education and of course the precursor to the modern UCD.
Source newspaper: irishnewspaperarchives.com / Cork Examiner 8 Nov 1854 download