All - Ireland Final 2016

After last weeks draw between Mayo and Dublin in the All Ireland final we will have to wait to see who owns the Sam Maguire Cup 2016! The match is due to be replaid on the 01.October.2016.
This is the third time Mayo and Dublin have met in the All - Ireland final.
The first meeting was the 1921 final which actually played on the 17th June 1923. The hero of that day was Mr. Joe Norris it is said "Joe Norris has the strength of a bullock, speed of deer and the agility of a cat"  The 1921 (17.06.1923) saw Dublin come out as the All - Ireland champions
Dublin  1 - 9 Mayo 0 - 2
Download and read the match report from the Irish Independent June 18.1923 below:
The second encounter between Dublin and Mayo was played on the 23rd September 2013 with Dublin once again  coming out on top
Dublin 2 - 12 Mayo 1 - 14
Download and read the match report from the Irish Independent 23. September 2013 below:
Last weeks draw needs no introduction. While many thought Dublin would come through for the third time against their rivals; it was not meant to be and the the wait will need to go on for both teams.  Dublin could be inline to win back to back All-Ireland finals while  Mayo are seeking to win their first final since 1951, having lost All-Ireland finals in '89, '96, '97, '04, '06, '12 and '13.
Dublin 2 - 09 Mayo 0 - 15
Download and read last weekend match report from the Irish Independent 19th September 2016
Order your GAA Sports Book today and get the match reports from every final from the 1800's right up to this year's decider 2016!  Limited print run with delivery estimated for the 16.10.2016. GET YOUR COPY NOW!
Taking orders NOW!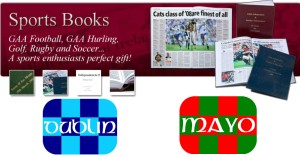 Irish Independent 1905-current, Monday, June 18, 1923 mayo v dublin
Irish Independent Monday September 23 2013 Page 1 - 3