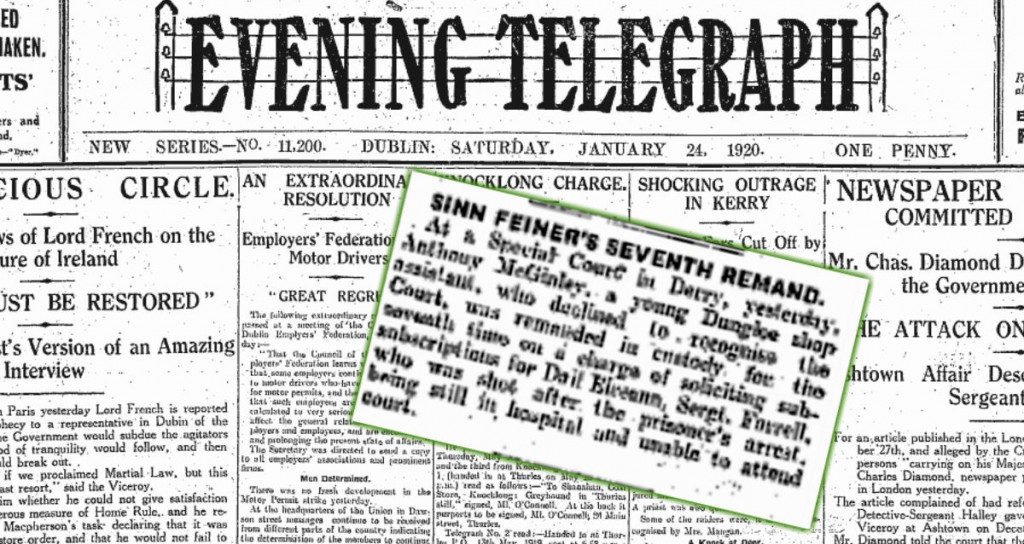 In January 1920 the War of Independence intensified with the IRA carrying out a number of offensives in almost every county. To mark the anniversary of this aspect of the campaign, this month we offer stories about the conflict as reported by the newspapers of the day.
At a special court in Derry on 23 January 1920 a man called Anthony McGinley was brought before the courts on a charge of soliciting subscriptions for Dail Eireann in the form of bonds. The man in question, a native of Dungloe, county Donegal, it was noted was appearing on his seventh charge.
Prior to this on 12 December 1919 as McGinley and another prisoner were being brought from the court in Letterkenny, the RIC patrol which was bringing them to Dungloe was attacked and four of the policemen injured, one seriously. Leaving the train station the patrol walked the prisoners towards the police barracks which located three miles away. They had not gone far when an armed party opened fire on them. Farrell took cover behind a rock and lay there for several hours until a search party reached him. He was said to have been in a critical condition having lost a lot of blood. As a result of his injuries, Sergeant Farrell, a native of county Longford, had his leg amputated after a bullet wound to his ankle had turned septic. Sergeant Farrell was unable to attend the court proceedings in late January in Derry. In total, the RIC men injured in the attack submitted malicious injury claims amounting to over £11,000. The incident was said to have caused a sensation in the north-west. Commenting on the attack, Judge Cooke at Lifford Crown Sessions stated that he hoped that the 'shrewdness of the people of Donegal would take care that it was the last' such attack in the county. Tensions continued in Dungloe and when two men were arrested in the village the local Sinn Fein band paraded through the streets playing republican airs and goading the police.
Download Source: