Battle of Verdun German loses mounting
The news as it was reported this day a 100 years ago from the Irish Independent 14.03.1916 (download the full page below)
"Times" War Telegram ( Article extract )
Paris, Sunday.
French military opinion is inclined, on the whole, to believe that on their present line the French will be able to beat back the utmost effort of the enemy, and is prepared to admit
that the fate of Verdun is no longer in doubt. The Germans may yet, if they are willing to pay some 500,000 lives, take Verdun. The blunt fact of the fighting is that since March 2, the enemy has been unable to make any progress, save in his casualty lists, which are now beginning to reach very serious figures. Fruitless German slaughter has again been the chief feature of the weekend upon the battlefield of Verdun. It has long been noticed that every time the French artillery has been unusually successful in  locating  the German batteries or  bombarding German billets  the enemy has sent a deluge of shells into Rheims.

Battle of Verdun Brief Facts:
The battle for Verdun in 1916 was the longest in history, with millions of shells fired over 10 months
At its end in December of that year, the French victorious, an area larger than the city of Paris had been destroyed
The French labelled it a 'Zone Rouge' shortly after the end of the war, leaving it to be reclaimed by nature
A century on, the ground is still littered with unexploded shells, strewn with barbed wire and filled with arsenic
Parts of the forest are still so dangerous the French have sealed them off, while shells are still turned up by farmers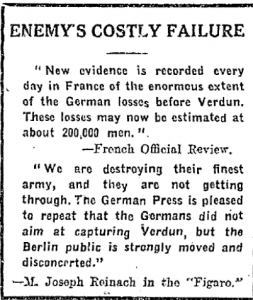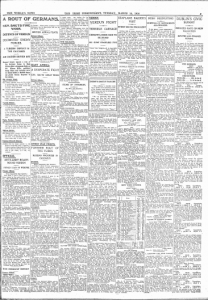 Start your adventure today and subscribe to 300 years of Irish and world history.  Join Irish Newspaper Archives from as little as €10.00!