Bobby Sands Dies on the 66th Day of his hunger Strike 
Bobby Sands, Roibeard Gearóid Ó Seachnasaigh, was born in 1954 in Rathcoole, a predominantly loyalist district of north Belfast. Robert Gerard Sands was a member of the the Provisional Irish Republican Army. Bobby Sands passed away 05.05.1981 while on hunger strike at HM Prison Maze. It was Bobby Sands 66th day on hunger strike.
Download the main front pages from 05.May.198.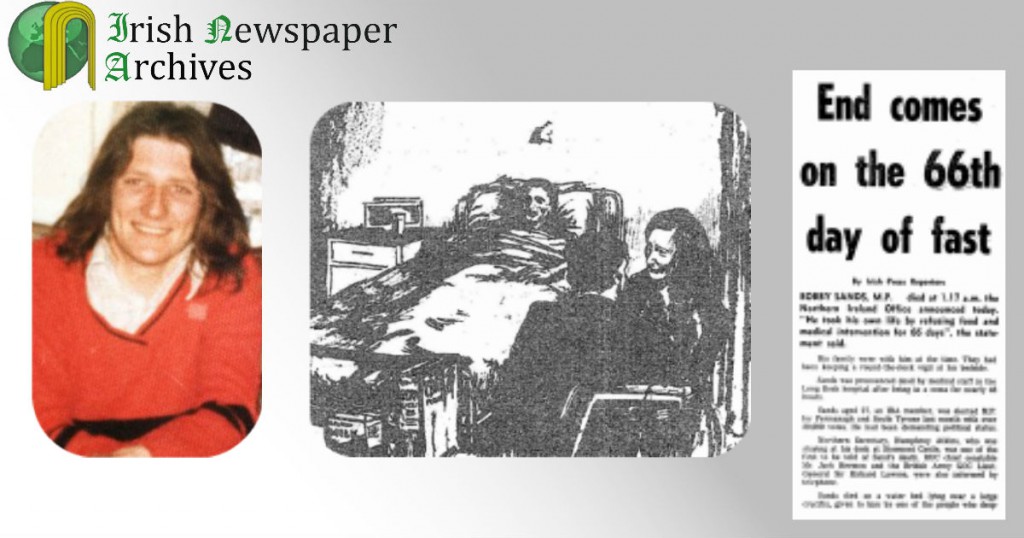 1981 Hunger Strike
He was the leader of the 1981 hunger strike in which Irish republican prisoners protested against the removal of Special Category Status. During his strike he was elected to the British Parliament as an Anti H-Block candidate.His death and those of nine other hunger strikers were followed by a new surge of Provisional IRA recruitment and activity. International media coverage brought attention to the hunger strikers, and the republican movement in general, attracting both praise and criticism.
Read, Download and Save the news carried on the Front pages from; The Irish Independent, The Irish Press and The Cork Examiner below:
While in prison Sands had several letters and articles published in the republican paper An Phoblacht under the pseudonym "Marcella" (his sister's name). Other writings attributed to him are: Skylark Sing Your Lonely Song and One Day In My Life. Sands also wrote the lyrics of Back Home in Derry and McIlhatton, which were both later recorded by Christy Moore, and Sad Song For Susan which was also later recorded. The melody of Back Home in Derry was borrowed from Gordon Lightfoot's famous 1976 song The Wreck of the Edmund Fitzgerald. The song itself is about the penal transportation of Irish republicans to Van Diemen's Land in the 19th century (modern dayTasmania, Australia).
Download the Front Page news below:
Search, retrieve and view Irish and world news from 1738 to current. Join today:
Irish Examiner 1841-current, Tuesday, May 05, 1981
Irish Independent 1905-current, Tuesday, May 05, 1981