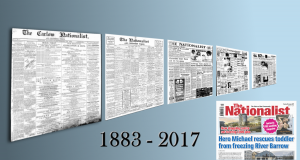 The first edition of The Carlow Nationalist and Leinster Times was published on Browne Street, Carlow in 1883. This historic newspaper has been reporting on regional and national events for over 134 years. To do this day the Nationalist & Leinster Times has the largest circulation of any newspaper title in Carlow. The full newspaper archive is now available for searching through the Irish Newspaper Archive gateway.
Search and retrieve every page from 22nd September 1883 to current through the Irish Newspaper Archives historic newspaper gateway. The Carlow Nationalist and Leinster Times holds the key for genealogical research for CO. Carlow and surrounding areas. The historic newspaper archives contains The Carlow Nationalist, The Laois Nationalist and the Kildare Nationalist.
Download the first every front page edition of the Carlow Nationalist and Leinster Times below. Start your adventure to day and get access to over 69 newspaper titles and 300 years of Irish history.
The Carlow Nationalist & Leinster Times 22.09.1883
---
---
Irish Newspaper Archives offers our members a unique view of Ireland regional and daily newspapers from 1738 to current day. Join Irish Newspaper Archives and start you search, read the events that shaped our nation or research your family tree through the largest online archive of Irish obituaries in the world. s