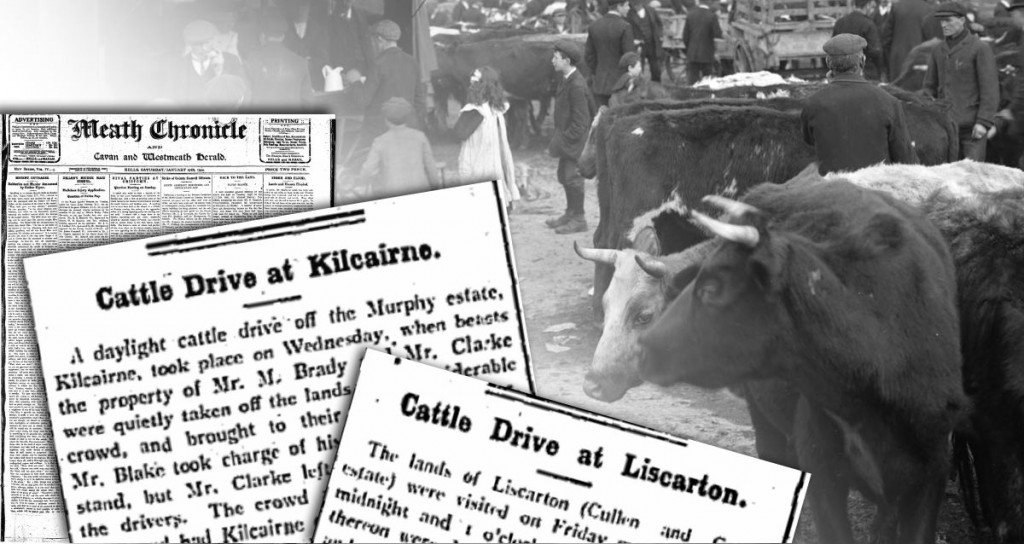 In January 1920 the Irish War of Independence intensified with the IRA carrying out a number of offensives in almost every county. To mark the anniversary of this aspect of the campaign, this month we offer stories about the conflict as reported by the newspapers of the day.
The sense of lawlessness prevailing in the Irish countryside could also be seen in the increase in cattle driving and other associated incidents, which affected many counties. Among these was county Meath where the grazier system was again targeted as it had been during the days of the United Irish League (UIL) in the early part of the twentieth century.
On 14 January 1920 a large crowd gathered at the Murphy estate at Kilcairn, near Navan where they proceeded to drive off cattle belonging to two men named Brady and Clarke. Only for the intervention of the RIC the agitators would have succeeded in their plan. From their they intended to move to Follistown, about two miles away where another grazier farm had been identified. Earlier in the month a cattle drive took place at Liscarton, county Meath on the Cullen and George estates. On this occasion, those responsible broke gate piers and gates before they were disturbed by the estate herd.
Following up on the Kilcairn cattle drive the police arrested four men who were said to be part of the Navan branch of the 'Back to the Land' Association. Before a special sitting of the court the four men were ordered to fund bail or receive a month in jail. They refused to pay bail and so were sent to Mountjoy. The escalation of cattle driving was to be a feature of the independence struggle as access to land became a concern for many people.
Download Source: Meath Chronicle Archive 
Meath Chronicle 1897-current, Saturday, January 17, 1920 
Meath Chronicle 1897-current, Saturday, January 10, 1920