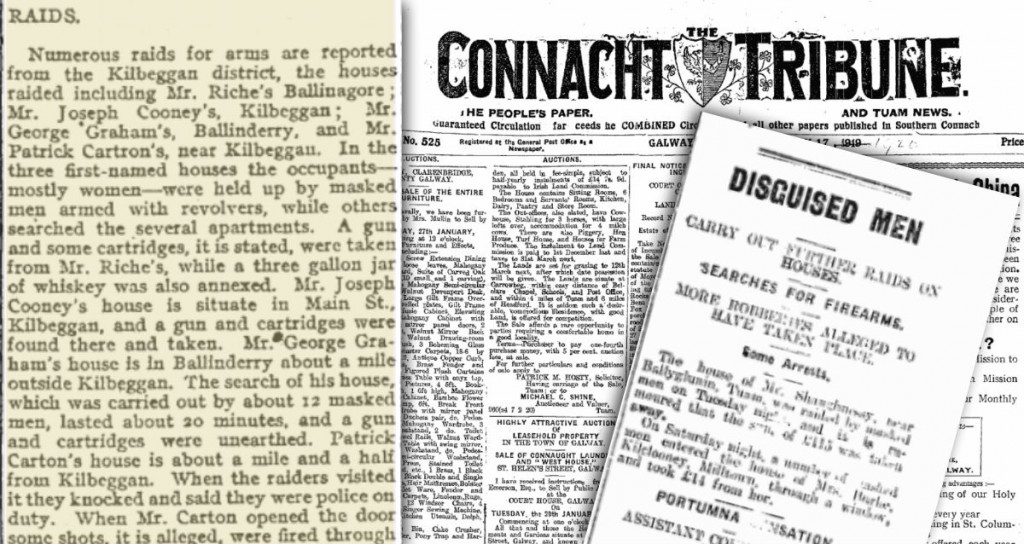 In January 1920 the War of Independence intensified with the IRA carrying out a number of offensives in almost every county. To mark the anniversary of this aspect of the campaign, this month we offer stories about the conflict as reported by the newspapers of the day.
By the middle of January 1920, under the cover of darkness, there were widespread reports of raids on Irish country houses. Following on the from the attack on those attending the ball at Roxborough, in the middle of the month a number of houses in county Galway were raided with the primary motive of taking arms and ammunition.
There were reports of raids on a number of houses in Clifden and at Ballyglunin, near Tuam the home of a Mr Shaughnessy. On this occasion, the raiders took guns and almost £115. Another armed raid took place at the Kennels, Craughwell where the raiders claimed that they were taking the guns 'in the name of the Irish Republic'. At Loughrea, Kylemore House, the home of W.J. Roche, justice of the peace, was raided and guns taken, as was the home of James Kelly DC. Two other houses were also raided on the same night. One man named Hynes, a native of Kinvara was arrested on suspicion of having played a part in the raids but by and large the authorities had little success in apprehending those responsible or in recovering the stolen items. In the months that followed county Galway would witness the burning of a number of country houses including Castlelambert House, near Athenry and Tyrone House, the home of the St George family. In 1921 Moyode Castle and Monatigue House, near Craughwell amongst others would be added to that list. It was an end to many of the country residences in county Galway, just as Lady Gregory had predicted when she wrote in January 1920 that 'the big houses are falling'.
Source Offaly Independent 17.January.1920 page 5