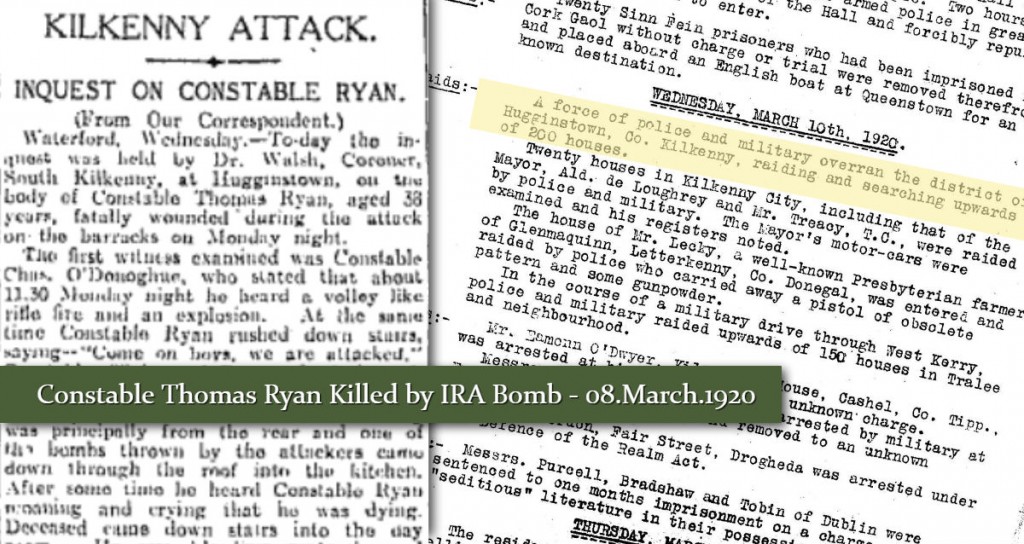 RIC Barracks Hugginstown Kilkenny Attacked by IRA, Constable Thomas Ryan killed.
On 8 March 1920 the peaceful village of Hugginstown in County Kilkenny was shook when the IRA mounted a daring attack on the RIC barracks. One of the police in the barracks on that occasion, Constable Thomas Ryan was fatally wounded during the night. Although IRA attacks on the police barracks were by March 1920 commonplace, it appears that this attack took them by surprise. The police were startled at 11.30pm by the noise of gunfire and bombs thrown at the building. Constable Ryan rushed downstairs shouting at his colleagues 'come on boys, we're under attack'. Constables Tighe and Conroy fired from the day room while Ryan raced upstairs with a box of bombs. The IRA then spotting Ryan in the upstairs room managed to throw a bomb of their own into the room. A few moments later the police heard Ryan moaning and crying stating that he was dying. Coming downstairs he was bleeding profusely and his arm had been completely shattered by the blast. His last words to his comrades were: 'I am done. They got me through the window'.
The IRA had, it seems, taken out the best trained of the police officers present. Ryan had undergone special training in throwing bombs and had received a certificate for such. After an intense period of firing the IRA retreated. When the police searched the area outside the barracks they found fifty to 100 bombs some of which had exploded and some were unexploded. They also found four bottles of petrol outside which were presumably brought to set fire to the building. The following day Ryan's remains were brought for burial to Ballybricken, County Waterford. On the same day the authorities ordered that Hugginstown barracks was to be closed.
 The Irish Bulletin (1918-1921), Friday, March 12, 1920 reported that on the 10th  March 1920 police and army raided nearly 200 houses in the town of Hugginstown, County Kilkenny: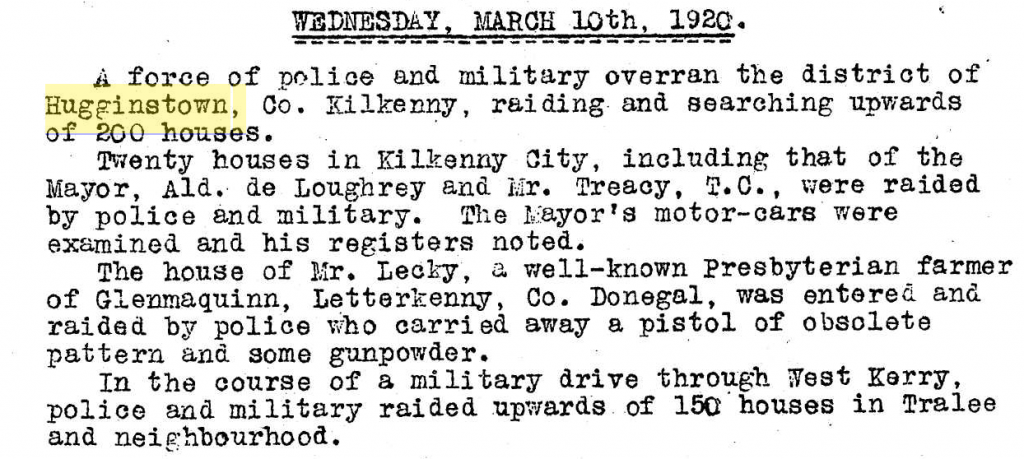 Download Source: Irish Examiner, 11 March 1920, page 5 & The Irish Bulletin 12.March.1920