The Contraceptive Bill of 1985
The Contraceptive Bill made headlines and covered tens of newspaper pages at the beginning of 1985. Journalists tried to cover the subject from all perspectives and people and organisations from all over Ireland wanted to express publicly their view on the matter.
Politicians were under immense pressure to vote freely as their "conscience dictated" on such matters. Three deputy members of the Coalition, who voted against their party's will, were considered to have committed "political suicide". The Kerryman from the 1st of March 1985, goes as far as saying that the vote "was not a true reflection of the way the people were thinking. A free vote for all would have given us a better representation of the views of the deputies as individuals."
The Contraceptive Bill was introduced by Barry Desmond, the Minister for Health at the time, and had the support of all Government members. Essentially the bill gave adults the right to purchase non-medical contraceptives without having to get a doctor's prescription.
As reported by the Irish Independent on the 21st of February 1985, the Minister considered "Outrageous to deny any adult the right to buy non-medical contraceptives if he or she so wished".
Among supporters were  Trinity College Student's Union as reported by Irish Independent, 8th of February 1985: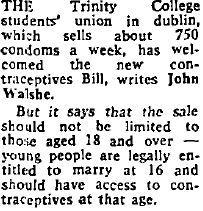 Munster Express from the 23rd of November 1984 presented also the very strong opinions against the bill and illustrated the lack of information that people from different areas in Ireland had:

The Contraceptive Bill was voted on the 20th of February 1985, 50 years after the "Criminal Law Amendment Act" made the supply, sale and importation of contraceptives illegal. The Contraceptive Bill was finally passed 83 to 80 votes. The Kerryman 1st of March 1985: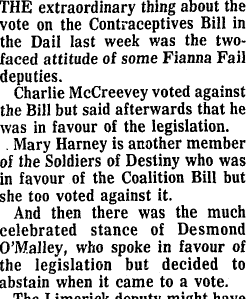 For more on this subject or any other subjects of interest check the archives.